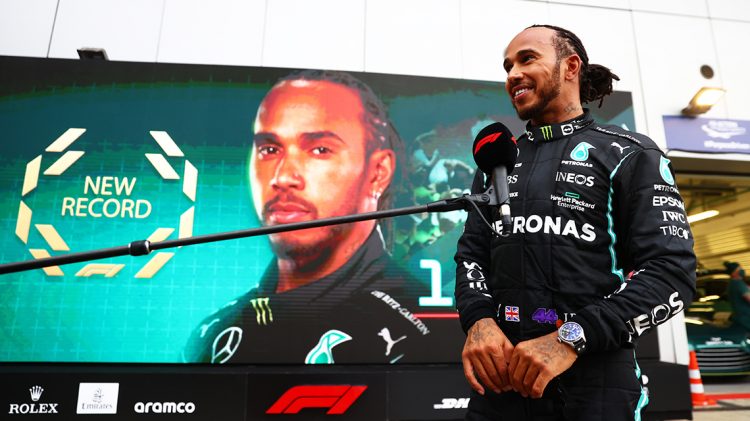 His 100th
F1 win
PUMA Athlete Lewis Hamilton wins his 100th race
September 27, 2021
PUMA Athlete Lewis Hamilton wins his 100th race
September 27, 2021
PUMA Athlete Lewis Hamilton achieved a major milestone on Sunday when he claimed
his 100th Formula 1 victory

at the

Russian Grand Prix

. With this win, Lewis became the

first F1 driver ever

to reach 100 wins. 

Congratulations

from the whole PUMA Family to this historic win.
Wow... 100! It's taken a long time and I wasn't even sure the 100th would come! Going to bed last night I wasn't the happiest with the job I did yesterday. I watched the replay over and over again; they were subtle mistakes but I was so determined to put things right when I woke up this morning.
Lewis had dropped three places on the opening lap, keeping his nose clean to navigate a very packed field, before settling into the race and preserving his tyres for an extended stint on the medium tyres, eventually moving up to fourth. He gained places after the first round of pit-stops and worked his way up. In the end Lewis finished over 53 seconds ahead of second-placed Max Verstappen. Lewis also moved back to the top of the driver's championship.
This marks Lewis's 79th victory with the Mercedes works team, extending its 100% win record in Russia, which began with victories for Mercedes in 1913 and 1914. By claiming 25 points, Lewis scored more than 4000 points in F1. He is the first driver to reach that milestone.
"Today was tough – I lost a lot of ground at the start, just trying to stay out of trouble. I was patient and at the end, when the rain came, I didn't want to let Lando go by boxing. Of course I didn't know what the rain was doing, it was just my feeling but I'm incredibly grateful to the strategy team for the job they did today. Getting anywhere near 100 victories wouldn't be possible without the hard work of the men and women here and back at the factory, I'm so grateful to them – it just feels so special.", Lewis told reporters after the race.
View this post on Instagram