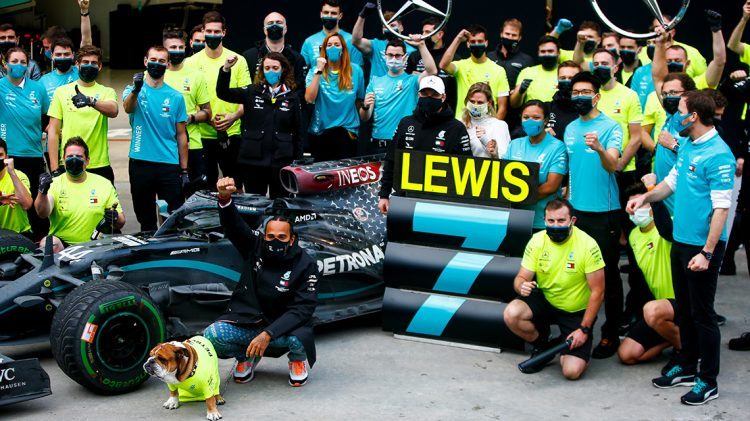 Magnificent
Seventh
for Lewis
PUMA Ambassador Lewis Hamilton wins F1 Drivers' Championship for seventh time
November 15, 2020
PUMA Ambassador Lewis Hamilton wins F1 Drivers' Championship for seventh time
November 15, 2020
PUMA ambassador Lewis Hamilton made motorsport history on Sunday, as he secured the
Formula One Drivers' Championship title for the seventh time

 and underscored his status as one of the greatest drivers ever.

By winning the Turkish Grand Prix, Lewis won his seventh title and equalled Michael Schumacher's record, which the German set in 2004. Earlier this year, Lewis beat Schumacher's record of 91 wins. As of today, Lewis has won 94 Grand Prix and has set a string of other records throughout his impressive career.

Lewis became a PUMA Ambassador in 2017, but he has been wearing PUMA on and off the track since 2013, when he joined our partner Mercedes AMG Petronas F1 Team.

Widely regarded as the most complete driver on the Formula One grid, Hamilton started his racing career when he was only eight years old, driving in junior karting championships in his native England. After climbing up the ladder in karting and winning the European Championships, he started to race in single seaters in 2001. He won the European Formula 3 Championships in 2005 and GP2 – what is now known as Formula Two – in 2006.

Lewis made his debut in Formula One, the top flight of motorsport, with the McLaren team in 2007. In spite of having World Champion Fernando Alonso as his teammate in his first ever Formula One season, Lewis beat the Spaniard and came within just one point of winning the Championship on his first attempt. He didn't have to wait long for his first title, however, as he secured his first Formula One Drivers' Championship the following season in 2008.

It wasn't until 2014, after he had switched from McLaren to Mercedes AMG Petronas, however, that Lewis started to display the impressive level of dominance over the sport that we have become accustomed to. With the exception of 2016, when team rival Nico Rosberg came out on top, Lewis has won every single Drivers' Championship since 2014.

From all of us at PUMA, congratulations on your seventh title Lewis! We are very proud to have you as a member of the PUMA family.