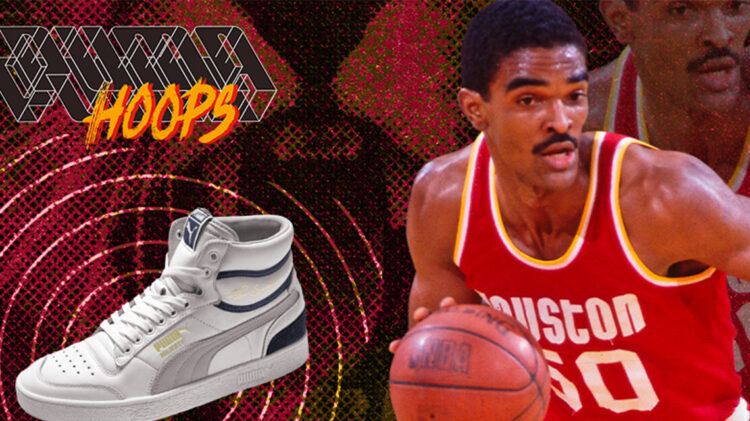 PUMA 75
THE SPARK OF AN ICON
Part of the Basketball Hall of Fame for 11 years: PUMA Athlete RALPH SAMPSON
April 11, 2023
Part of the Basketball Hall of Fame for 11 years: PUMA Athlete RALPH SAMPSON
April 11, 2023
It was the 2nd April 2012 when the Basketball Hall of Fame announced former PUMA Athlete, Ralph Sampson, to be amongst the 2012 class of Hall-of-Famers. As four-time NBA All-Star, Rookie of the Year and MVP of the All-Star Game, the induction was well-deserved. For the 11th anniversary of this historic event, we went down memory lane and revived the most iconic moments of his career.
Ralph Sampson dominated college basketball in the early 80's. He played as center for the University of Virginia and was known as a graceful, athletic player who was expected to redefine the sport. As the first center to ever show all-court versatility, amazing speed as well as tremendous rebounding and shooting skills, he was the most heavily recruited college basketball prospect of his generation.
As the first overall pick in the 1983 draft, he started his NBA career with the Houston Rockets. Ralph starred in the NBA, won Rookie of the Year in 1984 and was named three time all-star, as well as the All-Star Game MVP in 1985.
A great CATch
With his speed and agility, Ralph Sampson was a perfect fit for the PUMA Fam. When he was drafted by the Houston Rockets, he did not have a footwear sponsor – let alone his own sneakers. The brand that had provided him with footwear during his collegiate career had abandoned basketball. That´s when PUMA stepped in.
With a height of 224 cm and a shoe size of US17 / EUR 53, it was not easy to find a shoe that fits his needs. So PUMA created a shoe that fits the NBA giant perfectly.
The Ralph Sampson sneaker was tailored to the needs for high performance. It was built for acceleration and traction, for speed & grip during the lightening-fast game of NBA Basketball and was known for its stability and durability. The original high and low versions were designed with Ralph Sampson's expertise on the court and his knowledge about the sport, making it one of the most famous and most-loved models in PUMA history.
#PUMA75