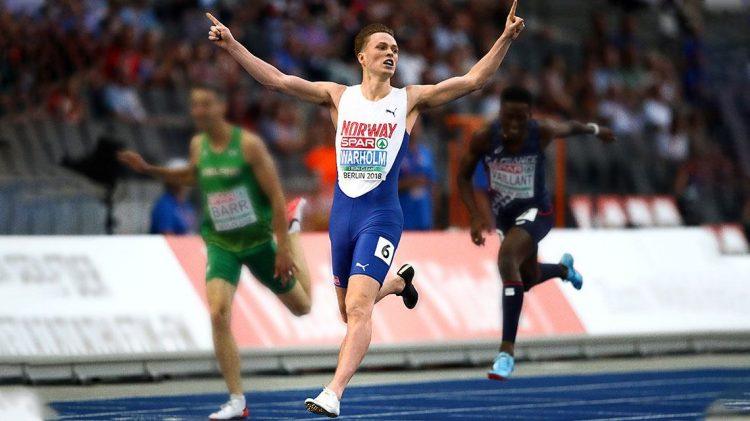 Track and Field News
Announces Men's
Athlete of the Year
Karsten Warholm takes the title, as first Norwegian in history
January 9, 2020
Karsten Warholm takes the title, as first Norwegian in history
January 9, 2020
Yesterday we reported on the "Athlete of the decade". Today we're proud to announce another exciting development:
PUMA athlete Karsten Warholm

has been named

Athlete of the Year

by Track and Field News.
The 23-year old track and field star has quickly become a national icon in Norway, and his undefeated season raised eyebrows in the international running world, putting him on the fast-track to "Athlete of the decade".
I'm not afraid of losing but I'm very afraid of not developing.
T&FN author Sieg Lindstrom used the following words to describe Warholm,
"(His) consistency in 2019 was highly impressive. Even Edwin Moses never put up so many astoundingly fast times in a season. Moses ran each of his three fastest times—47.02, 47.13 and 47.14—in different years. (Warholm) also ran two PRs this season and (the) 5 fastest marks averaged 47.21. Unprecedented."
Karsten Warholm is yet another athlete that we at PUMA are proud to back on his journey to Forever Faster. And he has some impressive advice to give on the topic:
For me, it's like I go to practice every day and I can feel myself becoming better each day, you know, as last year. What people see is who crosses the finish line first. But for me it's like I'm always becoming better, always running faster times. Always do better, that is the thing that I probably valued the most. So as long as I have progression, I value that. So I'm not afraid of losing but I'm very afraid of not developing. So this year, as last year, I'm very happy with improving and becoming even better because it's more and more difficult as you get on a higher level.
We're anxious to see what kind of records Karsten breaks in the months to come. But one thing is certain: his insatiable hunger to move forward and challenge his own personal PRs make Karsten Warholm a force to be reckoned with in 2020.