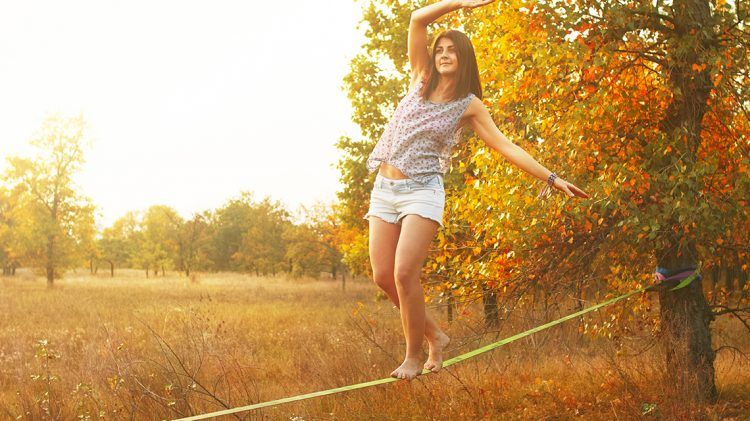 In Focus:
Slacklining
Balance is everything
March 15, 2018
Balance is everything
March 15, 2018
High-wire acts

never fail to impress you? You maybe even caught yourself thinking "I'd love to do that" while watching French

tightrope-walker Philippe Petit

walk between the World Trade center's twin towers in the Oscar-winning 2008 documentary

"Man on Wire"

? Then Slacklining might be just the right thing for you!
WHAT
Slacklining has its history in tightrope walking. It was originally brought to life around 1979 by climbers Adam Grosowsky and Jeff Ellington in the Yosemite Valley (USA). While both sports are very much alike the modern version evokes an entirely new set of skills and techniques. To master slacklining it requires a combination of balance, coordination and concentration. Unlike the standard tightrope or wire, a slackline is held under tension, but it's not held taut. This causes it to be very dynamic and makes it move as you walk across. Also, a slackline is flat. Therefore slacklining is way easier to learn since your foot won't roll of. Like other sports slackline has competitions and continues to develop as both a sport and way of life.
WHY
1. Improves balance
Balance and stability is vital in all aspects of life and integral to many sports like climbing, trail running or skiing. Studies found that slacklining increases the rate of muscular contraction enabling athletes to perform physical activity faster.
2. Full body workout
To keep your body balanced slacklining requires the use of your entire body and all its muscles to prevent you from falling off that wobbly line.
3. Improves core strength
To hold your center of balance slacklining requires utilizing your core nonstop. Beginners will definitely feel the burn!
4. It's meditative
Walking the slackline is "moving meditation". The mental and physical challenge can be enough to place you in a zen state-of-mind.
5. Better posture
Besides the core muscles you also use your back muscles which strengthens your spine and will ultimately prevent poor posture and delay the onset of back pain.
USP
The ability to carry around your gym in your backpack means you're much more likely to use it.
HOW
Learning to walk a slackline is a simple activity that is perfect for a warm spring day. The only equipment you'll need is a proper slacklining kit. Good news is, that starter kits are very affordable. Since they are also relatively simple to set up, just find a couple of sturdy trees, string your line between them and get started!
FUN FACT
In June 2017, the French athletes Pablo Signoret, Nathan Paulin and Lucas Milliard crossed a record-setting highline over Cirque de Navacelles, a valley within a UNESCO World Heritage site in France. The route – the longest ever completed – stretched 1,662 meters and was placed 340 meters above the valley.
Image by myshkovsky/iStock