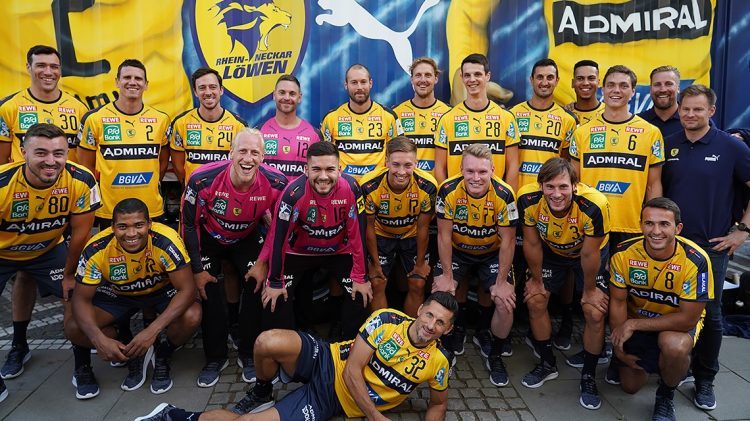 A kit launch
turns into a
handball party
PUMA presents first jerseys for the German Rhein-Neckar Löwen
July 18, 2019
PUMA presents first jerseys for the German Rhein-Neckar Löwen
July 18, 2019
World-class Handball goalkeeper
Mikael Appelgren

is happy: Finally, he can wear a jersey in his favorite color.
Sweden's national keeper Mikael Appelgren plays for the two-time German Champion Rhein-Neckar Löwen (Rhine Neckar Lions) from Mannheim, Germany. Earlier this year, PUMA and the handball club announced their partnership.
Their kit launch was a very special one: more than 500 fans turned the launch into a huge handball party right in the city center of Mannheim. Some had queued for a long time to be the first in front of the stage to cheer on the players dressed in their new jerseys.
Of course, the man in pink, Mikael Appelgren, created a special wow effect. The rest of the team was sporting the team colors red and blue. The jerseys were specially developed for the handball sport, featuring extra strong seams.
PUMA's dryCELL technology leads moisture away from the skin and ensures a pleasantly dry sensation, even during maximum physical effort
PUMA and the Rhein-Neckar Löwen are now looking forward to the upcoming season. "We are both dynamic, work professionally and got along really well from the very beginning of our talks.  At PUMA, we don't want to work with as much clubs as possible, but with the right ones. For us it is mostly about shared values," Matthias Bäumer, Area General Manager DACH, said about the partnership.
The jerseys definitely are the right ones. "If you've seen how proud the team was wearing the jerseys today, that's the biggest compliment," said Oliver Roggisch, Sports Director of the Lions.