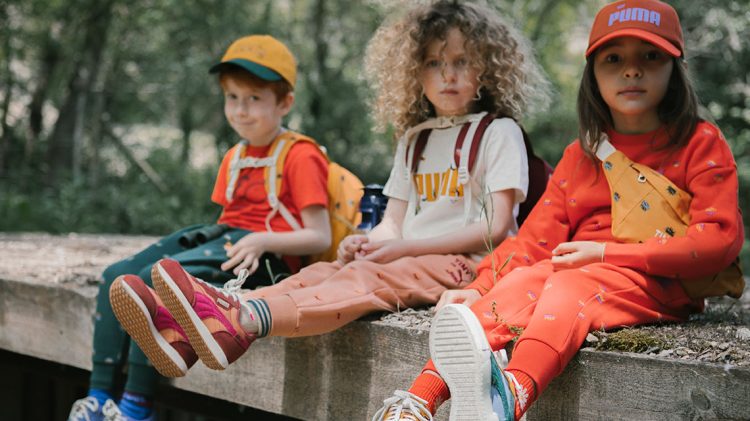 Get the Look
Get the Look:
PUMA x TINYCOTTONS
For the Tiny Explorers
October 11, 2021
For the Tiny Explorers
October 11, 2021
Fun-loving and fun-sized –
welcome to the latest collaboration between sportstyle legend PUMA and Spanish fashion brand Tinycottons.

With an environmentally aware and fair trade approach, this exciting team effort brings a fresh take on some classic PUMA pieces. To all those tiny explorers out there: get ready to be decked out in some funky pieces splashed with

a quirky motif of little ants that have marched in directly from the Tiny Forest.
The Shoes
The PUMA and Tinycottons footwear collection features reworked versions of PUMA favourites, including the Suede and Future Rider. Today we chose a pair of Future Rider Baby Sneakers to accompany your child on their next adventure. In a soft sky blue with splashes of yellow and forest green, the primary color scheme is fun without being overpowering. They're made with a nylon upper and suede overlays, with a TPU piece on midsole and nylon webbing on Formstripe; comfortable with an original design.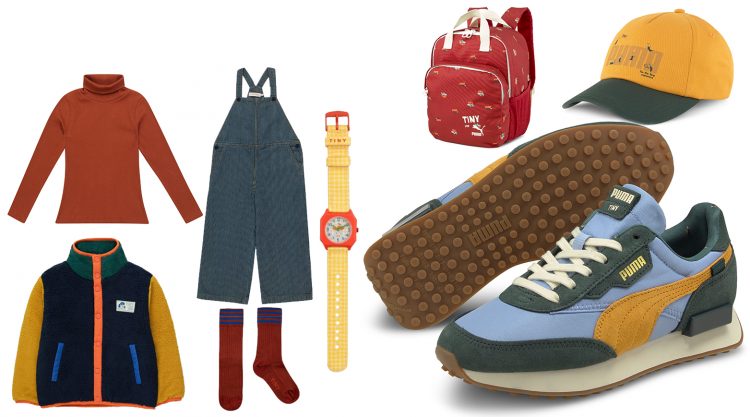 The Outfit
A family company based in Barcelona, Tinycottons is known for creating long-lasting, eco-friendly products from recycled materials. For this look, we were inspired by their stylish approach to items made for children –  bold and fun, while still being incredibly comfortable and high quality. This cozy outfit of the day was styled to be unisex and perfect for settling down in the classroom or heading off on an outdoor adventure.
Up top is a fleece jacket in a deep blue and honey that complements the colour-blocking aesthetic that was established in the sneakers and runs throughout the whole look. Beneath this, a burnt orange turtleneck in organic cotton adds warmth both literally and visually. Finally, a pair of relaxed-fit denim dungarees were too adorable not to include. With their subtle striped pattern and wide-leg shape, they keep the whole effect casual and playful. Plus, who didn't love playing outside in their dungarees when they were a kid?
The Accessories
First up, the ANTS Backpack from the collection comes in a deep burgundy colour that matches other layers of clothing and is splattered with graphics of our tiny ant friend. It's both cute and functional, with various features such as a double opening and adjustable padded shoulder straps. Then the Colorblock Cap comes in bright yellow and forest green with a curved visor, embroidered eyelets, and both Puma and Tiny logos printed across the forehead. A waterproof watch with bright yellow straps is perfect for helping your little one learn about time and start to keep track of their favourite moments. Finally, the stripes are back: these dark burgundy socks with ultramarine stripes are the perfect finishing touch to peek out above the Riders.
The latest collection from PUMA x TINYCOTTONS certainly does not disappoint.
With charming and colourful new sportswear made for tiny tots, it's an adorable new addition to the PUMA family.

Get ready to dress up your tiny explorer and head out for the next adventure.