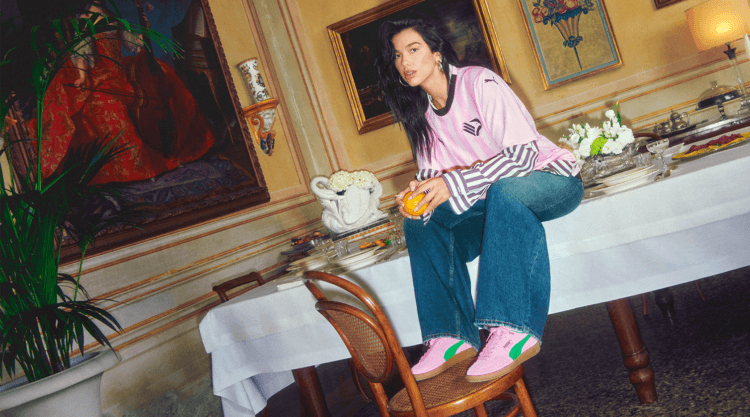 Get the Look
Get the Look:
PUMA x PALERMO
Living the Sweet Life with Dua Lipa
November 14, 2023
Living the Sweet Life with Dua Lipa
November 14, 2023
Straight from the PUMA archives, the Palermo is back!
Originally debuted throughout British football stadiums in the 1980s, PUMA continues to celebrate this classic sneaker with a fresh drop featuring Dua Lipa

 that showcases a sweet new look. Available in a wide array of versatile colourways,

we've styled one version of this iconic shoe with some other uplifting and on-trend items

for outfit inspiration to help you stay bright as we move into the darker seasons.
The Shoes
This historic shoe, widely known within football culture and a fan fav at British sports stadiums, returns with its signature label on the upper, emblematic T-shaped design and familiar gum sole. Anchoring with elements seen in the original, the sneaker we chose to go with today is unisex and displays cheerful shading and bright colour blocking with modern details that emanate that dolce vita vibe.
The whole Outfit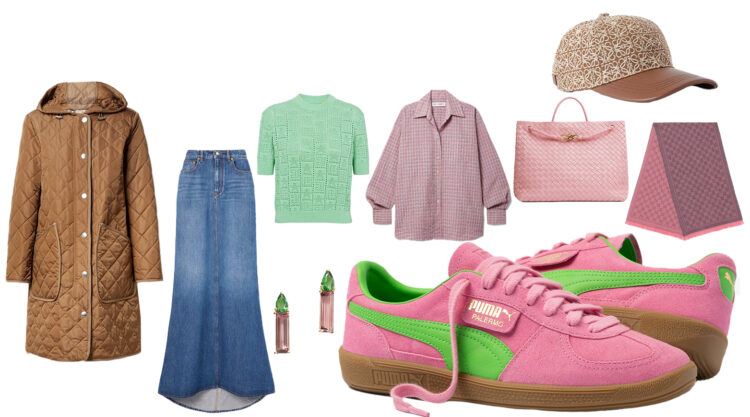 The Outfit
An outfit meant to accompany the Palermos should be equally classic and modern, with simple yet refined, timeless pieces that riff with the shades and textures in the sneakers to give your look that easy cohesive vibe. On the base, we went with a maxi skirt, a length that is very in at the moment. With faded blue denim and soft whiskering, this one lends the look a retro feel while the fitted waist that flares to mermaid-style hem gives an air of drama (in a good way).
Next comes a monogram open-knit jumper in a soft green, introducing texture and visual interest. Over this layer we styled a checked seersucker button-up with a relaxed fit enhanced by dropped shoulders, giving a slightly more masculine element that juxtaposes the flowy maxi skirt. Finally, a maxi-length overcoat is an item currently dominating this season's runways. Maximum power with minimal effort ─ this quilted and hooded item is warm and stylish in a shade that nonchalantly matches the gum soles of the Palermos.
The Accessories
Our accessories take the opportunity to elevate the more laidback elements in the outfit for a nouveau chic standard. A soft and supple pink purse with knotted details throws another texture into the mix while playing with the same palette introduced by our shoe stars; a patterned wool scarf in soft pink with fringe details does the same. The cap with cotton-blend canvas and tonal leather visor gives a confident nod to the sportstyle origins of the outfit. Finally, a pair of striking earrings with gold, green and pink elements gently but firmly ties the whole look together, for a striking final statement.
PUMA has staged a successful return of the cosmopolitan Palermos with an array of new colourways to explore.

Versatile and dynamic, there are plenty of ways to incorporate the old classic into the contemporary wardrobe and enough options to ensure that

you'll find one that perfectly suits your personal style.
🛍️ Shop your Palermo style now on
puma.com!