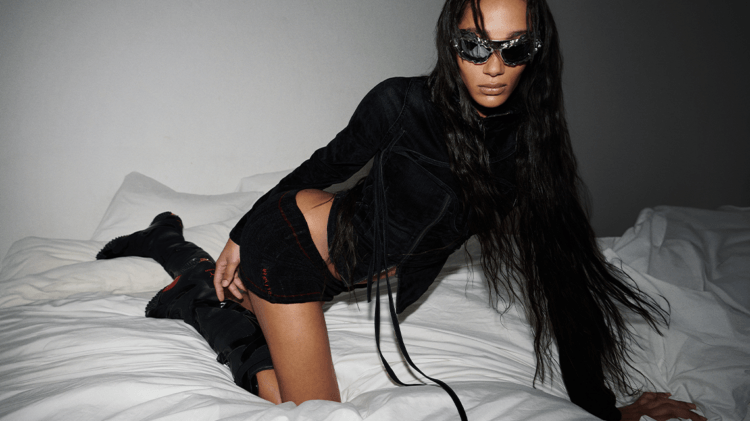 Get the Look
Get the Look:
PUMA x Ottolinger
Unflinching Femininity
October 20, 2023
Unflinching Femininity
October 20, 2023
PUMA and Ottolinger celebrate an exclusive capsule collection for FW23, showcasing items inspired by an unblinking approach to femininity.
Sculptured silhouettes harmoniously balance elements of deconstruction and construction for a liberated style expression

. Inspired by the collab, we put together a fierce outfit for your fall line-up.
The Shoes
At the core of the capsule is the renowned Mostro Boot which manages to preserve classic elements such as a signature spiky sole, whilst being reimagined with an infusion of bold metallic elements and pops of colour and chrome. Several different options are available, including a mid-cut sneaker with iconic PUMA DNA and wrap-around laces. However we were flashed (literally) by these knee-high boots which offer a fashionable take on functionality. With crossover velcro straps, a smooth round toe, classic logo on the tongue and a glimmering gilded gold tone they are unquestionably the showstoppers.
The whole outfit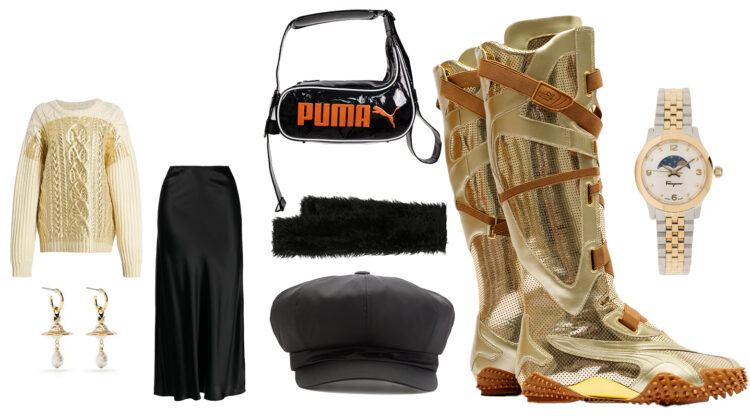 The Outfit
An exploration of feminine expression, today's outfit layers different textures and tones for a fiercely free ensemble that continues and expands upon the bold statement made by the boots. Runways this season are singing praise for audacious metallics, and this cozy cable-knit sweater with gold elements is an example of how to incorporate this trend effortlessly into your home. The bulky oversize aspect of the sweater allows for a causal je ne sais quoi, plus what would autumn even be if not an opportunity to wear an abundance of cozy sweaters on every occasion.
On the bottom a silky midi skirt creates elegance that juxtaposes the lack of structure in the upper layer while maintaining the season's skirt agenda in terms of cut and length. Meanwhile the dimensions and texture effortlessly (but effectively) draw attention to the boots, the true stars of the show.
The Accessories
Accesorizing this type of outfit is way to lean into the dynamic decadence established by the boots. Orb drop earrings in gold and pearl emphasize the softness of the sweater and the overall opulence of the look; an impeccable designer watch does the same. A reworked newsboy cap gives a slight push against the gender norm while tipping the look over with a refined bold twist. A jet black faux fur scarfs adds to the extravagence and alternative allure of the Ottolinger approach. Last but not least, a show-stopping bag adds the final oomph ─ this iconic patent leather piece from the collection gives an edge with the material and emphatic branding, while the bubble shape is engaging for the eye.
Berlin-based brand Ottolinger contributes their uniquely alternative approach to fashion and luxury in this exciting new collaboration with PUMA. Guided by an unwavering take on feminine expression that challenges conventions, the new capsule applies an infusion of fresh energy to classic PUMA infrastructure.