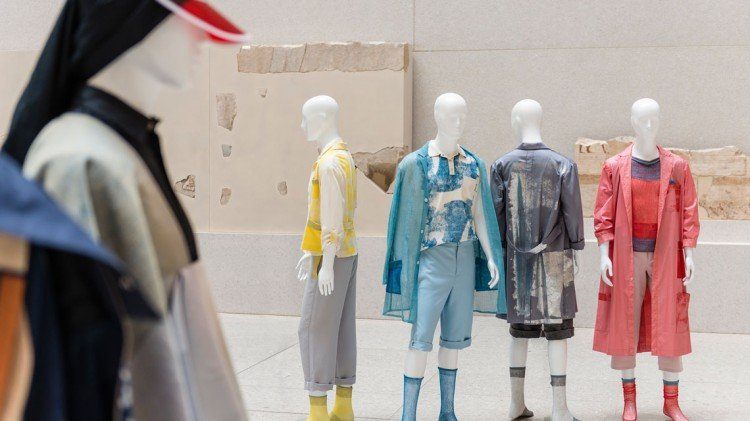 Fashion Award Winner
working@PUMA
Redefining the work coat
September 22, 2015
Redefining the work coat
September 22, 2015
141 participants from 27 countries

and a high-caliber jury with experts such as PUMA's Creative Director Torsten Hochstetter: the 10th edition of the European Fashion Award FASH was without a doubt a highlight of the Berlin Fashion Week in July. Six up-and-coming design students were invited to present their projects during an exhibition at the impressive Neue Museum in Berlin.
One of the lucky winners: Julia Kleeblatt (26) of the University of Arts and Design Halle with her concept "Kittel 2.0" ("Work Coat 2.0"). Julia was not only rewarded with a prize money of 2,500 Euros to support her future work, but also won an internship with PUMA's Sportstyle Men Apparel department at our Headquarters in Herzogenaurach.
CATch up met her for a cup of coffee…
The subject of this year's FASH Award was "Freedom". Now, what exactly do work coats have to do with that?
Work coats have a link to freedom in the sense that they save you the daily search for the right outfit. You just put on your work coat, start your day and don't have to worry about anything. In addition, my project expressed freedom by radically changing the look and materials of the work coats I designed.
How exactly?
My idea was to break with the strict, straight shape of a work coat to eliminate its typical associations with work, obligation and restriction I experimented with fibers, knittings, colors, played with length, space and proportion. Some areas of the fabric have been printed or coated. But have a look for yourself!
How was your start at PUMA and what is your job as an intern?
It's very fascinating to experience the apparel business at a sports brand like PUMA – and I must say I love the positive energy here. Right now, we are working on the colour scheme and matching for the Spring/ Summer 2017 collection. I'm thrilled to see what the next months will bring.