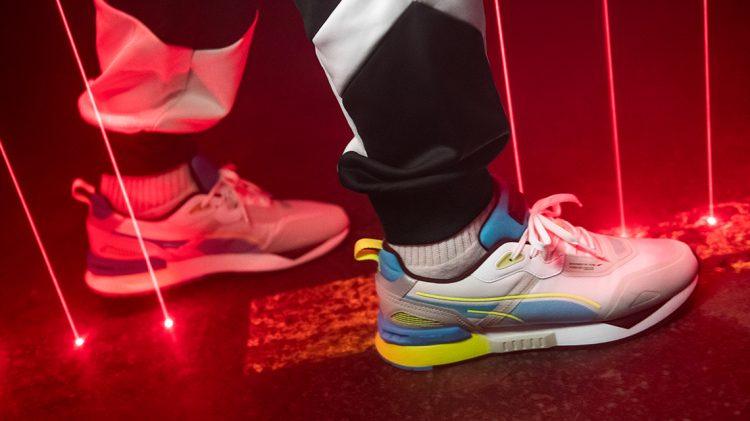 Get the Look
Get the Look:
Mirage Tech
Eye-catching & electric energy
February 23, 2021
Eye-catching & electric energy
February 23, 2021
The Mirage Tech is the latest iteration of the Mirage lineage, drawing deep from the PUMA archives to bring you an eye-catching new street style silhouette . With a
revamped futuro design inspired by the driving beat and unique atmosphere of the electronic music scene

, the Mirage Tech is the perfect starting point to construct an edgy ensemble that channels this

electric energy.
The Shoes
The classic Mirage first joined the PUMA family more than half a century ago as a lightweight track and field shoe which then evolved into an iconic jogging shoe of the 90's. PUMA's Mirage Tech takes this familiar foundation and remixes it. With trippy colors, flashy materials and futuristic features, these sneakers embody the flashing lights and pulsing atmosphere of the dance floor during your favourite DJ set. And with their stable support and comfortable lightweight foam technology, they're an edgy streetwear essential made for real world situations.
The whole Outfit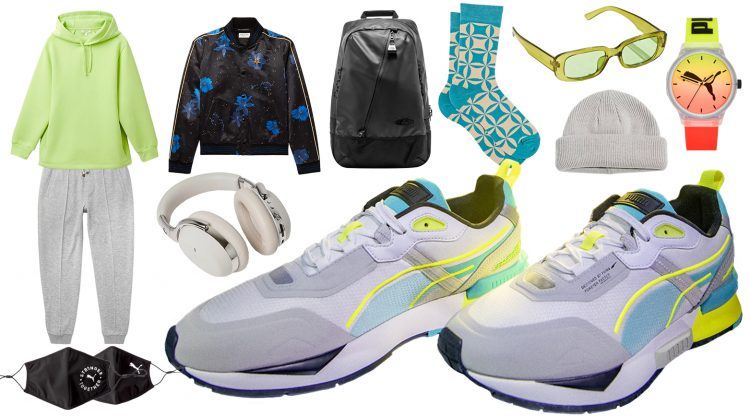 The Outfit
The outfit inspo kept right on dancing with this theme. Comfortable and sleek, these cashmere slim-fit sweats were a no-brainer: great for low-key moments chilling at home (mixing up your own DJ set perhaps), but still hip enough to wear when going out. Next up, this fluorescent yellow scuba hoodie was so magnetic we couldn't resist. Practical and fashionable, the colour is trending this season while the standard fit keeps things effortless.. Neon is practically a symbol of streetwear at this point, and the shade plays with the trippy elements of the sneakers without feeling too 'matchy matchy'.
Finally we were swayed by this larger-than-life bomber jacket. Modernistic with a lustrous shine, it's that electric blue floral pattern that really does it. One part ironic, one part flamboyant, it's a bold statement piece. Bombers are superb for the slow transition from winter to spring, and especially with the hoodie layered underneath you have the ideal ensemble for raving (and relaxing).
The Accessories
Because the outfit is quite chill, feel free to play with dynamic additional features. A soft grey knit beanie keeps you warm but is now (and probably always will be) cool, while retro translucent yellow shades are going to lend a vivid new perspective to the world. Speaking of vivid, this bright psychedelic PUMA watch gives the outfit a great pop of colour, but don't forget to pack some of these neutral black face masks to stay safe when dance floors are an option again. Practically speaking, this slick black leather backpack has compartments galore for storing all your gear. Finally, geometric print socks in blue are a playful match to the sneakers, and a pair of silver and white leather wireless headphones are made for hitting play on your favourite playlist, tuning in and drifting away.
Dynamic and futuristic the Mirage Tech sneakers are the optimal kicks to practise your fancy footwork in.
Drawing from the lights and electric atmosphere of the world of DJs and EDM music,

feel free to experiment with your fashion pairings – dressing up or keeping things more low-key– whatever expresses your inner beat.