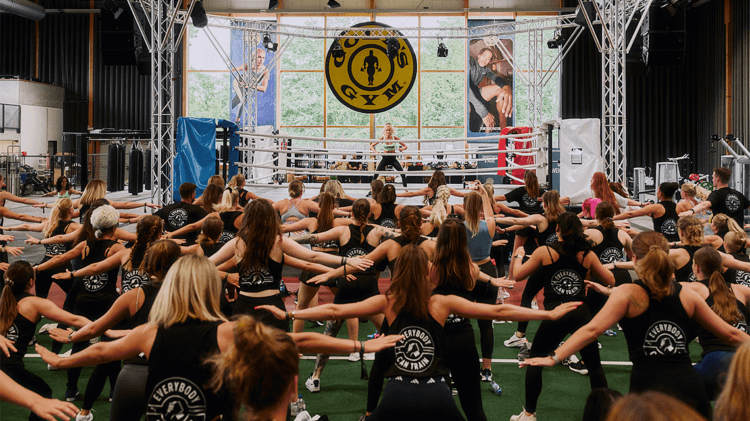 Everybody Can Train
Fitness event with Pamela Reif hosted by PUMA x Intersport
September 1, 2023
Fitness event with Pamela Reif hosted by PUMA x Intersport
September 1, 2023
What a day! On August 29th, the Gold's Gym Berlin witnessed an exclusive fitness event underscoring our belief that #EVERYBODYCANTRAIN. In a dynamic collaboration between PUMA and Intersport, we invited 190 participants to a day full of different sports trainings and wellbeing.
A Day of Athletic Exploration
At our "Everybody Can Train"-event, we offered a chance to explore and try different kinds of sports. From Yoga or Weightlifting, to HYROX, Boxing, and a live Fitness Workout with our PUMA ambassador Pamela Reif.
An exclusive opening
The event started with an exclusive opening for Intersport and VIP guests. After the opening, our VIP guests had the chance to meet the trainers Pamela Reif, Gordon Bieling, Joshua Wichtrup, Sophie Schwartz, Alen Rahimic and Denis Radovan –  followed by a joint lunch.
Diving into the fitness lifestyle
After the first part dedicated to our VIPs, the doors opened to a broader audience. Janina Nagel welcomed the participants and guided them though the whole day. We started with a light fitness workout ledby Pamela Reif and continued with three fitness rotations where everybody had the chance to try out different options.
THIS WAS SO MUCH FUN! PERFECTLY ORGANISED AND I THINK I WILL TRY BOXING. REALLY LOVED THE CLASS!
If they needed a break, our participants had the chance to get a massage, enjoy healthy food and drinks, join small competitions, try on the PUMA FIT collection at the PUMA FIT showroom or just relax in the chill out area. On top, everybody had the chance to get a photo with Pamela Reif in our photo corner.
THANK YOU PUMA & INTERSPORT, THIS WAS UNBELIEVABLE
The variety of activities, our diverse group of guest and great vibes of our trainers made for an incredible day. The vibrant atmosphere, guided by our top-notch trainers, was a testament to our commitment to inclusivity and a love for sports and proof that truly #EVERYBODYCANTRAIN