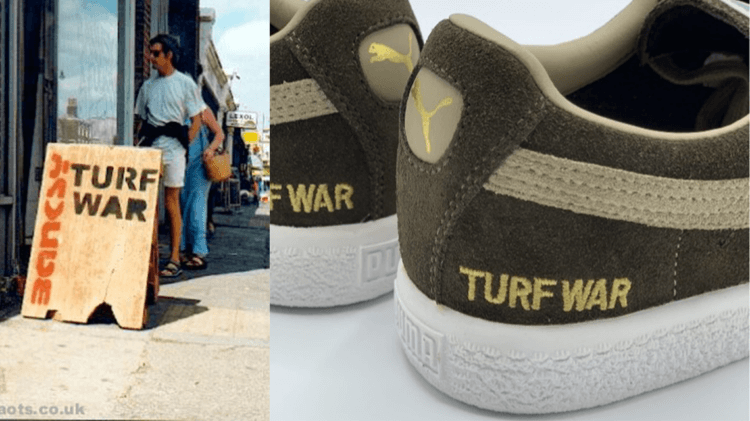 PUMA Archive
PUMA Clydes featuring
Banksy's Turf War
Did you know that there is a Banksy in the PUMA Archive?
July 18, 2023
Did you know that there is a Banksy in the PUMA Archive?
July 18, 2023
Well – we do not have the "Girl with Balloon" or the "Flower Thrower", but we do have a pair of PUMA Clydes from 2003, created in collaboration with Banksy! They have been designed to commemorate his first major exhibition: Turf War in London. Read on to learn the full story about PUMA x Banksy.
Turf War, London, 2003
Staying true to the creeds of street art, Banksy has created a lauded body of work that is both enduring and ephemeral. His art cleverly uses satire, dark humor and irony to create social, political and humanistic messages for the masses.
Opening on 18 July 2003 and lasting only three days, Turf War was Banksy's first major exhibition where he displayed a variety of different techniques and styles.
It was held at a secret warehouse location, somewhere on Kingsland Road in London's East End. The edgy presentation controversially included painted cows featuring the artist's distinct stencil style. Jamie Oliver was among the attendees.
The exhibition was partly sponsored by PUMA, who produced collaborative t-shirts and sneakers featuring a 'Turf War' branding.
The "TURF WAR" embroidery on the heels is a custom touch, and so is the "BANKSY" Logo sewn on the inside of the shoes. It's safe to say these were never sold at retail and only given away to a handful of people at the time.
We relaunched our signature Clyde silhouette from 1973 in the early 2000s. The Clyde was the first sneaker worn in a sponsored NBA athlete deal, by Walt "Clyde" Frazier.
We brought a pair of the Banksy Clydes back to our Herzo HQ, which you can currently find displayed on the Bridge.
"Existencilism" 2002 Los Angeles
Back in 2002, Banksy held his first Los Angeles exhibition, Existencilism, at the 33 1/3 Gallery. This exhibition was also sponsored by PUMA.
The title is typical Banksy humor whereby he intentionally misspells the word "Existentialism" by throwing "stencil" in it – certainly a playful way for the artist to elevate street and stencil art to a school of thought as important as philosophy.