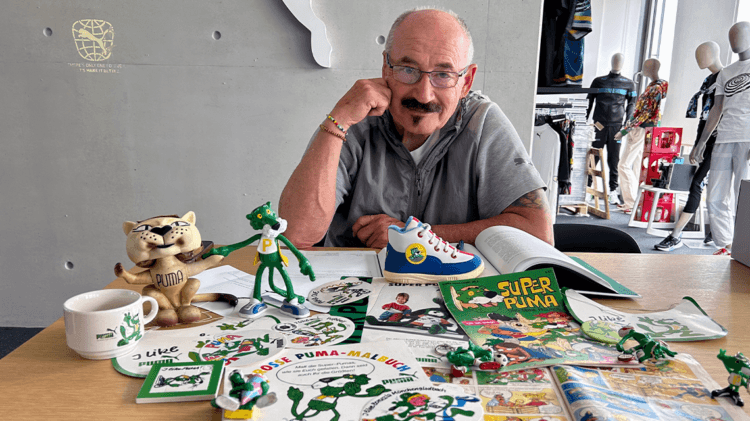 PUMA 75
40 Years SUPER PUMA
Mr. PUMA tells the story of our mascot, the Super PUMA, and explains how it all began
June 26, 2023
Mr. PUMA tells the story of our mascot, the Super PUMA, and explains how it all began
June 26, 2023
Only a few people know it: the SUPER PUMA, our green cat mascot, has now been around for 40 years! To celebrate this anniversary, we took a trip down memory lane with our Mr. PUMA, Helmut Fischer, to explore the history of our cartoon star. Read on to find out who invented the green superhero and what adventures Mr. Puma Helmut has had with him!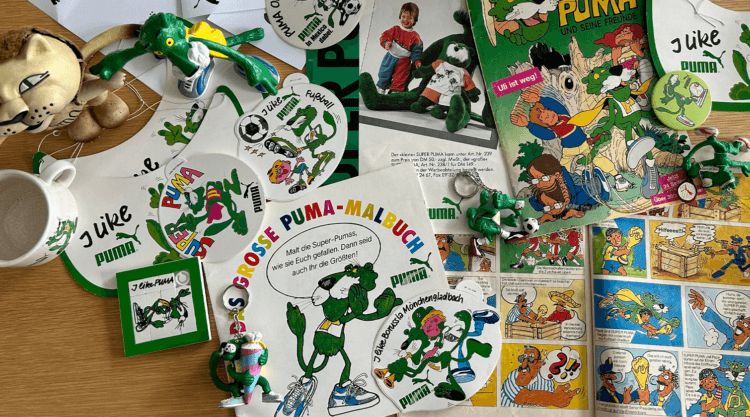 Helmut, who is SUPER PUMA?
Helmut: One of my most memorable PUMA experiences, the creation of our comic book character SUPER PUMA! First, he was our comic book hero, our main character who would go on adventures around the world of sports and solve riddles with his friends, the kids. Later, SUPER PUMA came in many different versions, there was SUPER PUMA playing soccer, a SUPER PUMA mascot for each of our sports clubs, there was even an inspector SUPER PUMA. So, with the comic, we wanted to access children through SUPER PUMA and get them excited about our brand at an early age.
So, who invented SUPER PUMA?
Helmut: It wasn't entirely my idea, to be honest. The initial impulse came from Rudolf Dassler, who as early as 1962 had his advertising agency in Nuremberg design a cartoon character under the name "The Laughing PUMA" – it was offered to his specialist dealers for store and window decoration.
Then at the beginning of the 1980s, I had the idea of creating a character, who, as SUPER PUMA, could introduce children to the PUMA brand in games and sports at an early age. I presented my idea to our advertising agency at the time and it was immediately met with enthusiastic approval. So they designed the first SUPER PUMA comic.
And what happened from there?
Helmut: Well, in the beginning there was the comic, which was distributed to our partners, the shoe stores, and which the children could take with them. The success story of the comic soon attracted cooperation partners like Kettler, Lego, Grundig and Philips, who used the magazines as an advertising platform. Editions reached up to 400,000 copies per issue, which were distributed through selected PUMA retailers along with millions of SUPER PUMA stickers in Germany. As the comic became more popular, so did more and more SUPER PUMA advertising material – from countless figurines and bottle openers to a SUPER PUMA kite and life-size plush figures for shop window decorations.
What was the task of the Super PUMA?
Helmut: My idea at the time was to introduce children to our brand through a comic – the rolemodel was the German shoe chain Salamander, which had "Lurchi" (a salamander) as its mascot. Our SUPER PUMA was to accompany children in their everyday lives and take them on fun adventures around the PUMA sports brand world. This is how the idea for the first comic strip came about – where SUPER PUMA steps in to find the missing World Cup trophy. Later, a whole gang of friends came together around SUPER PUMA and they experienced many comic adventures. That was my strategy at the time, to introduce children, as tomorrow's customers, to PUMA as a brand and develop a relationship at an early age.
For me, one prerequisite for retaining the young target group in the long term was always to have products with the SUPER PUMA. We had collections back then – really high-quality children's shoes and also clothing with the SUPER PUMA image.
And which was your favorite Super PUMA item?
Helmut: One of the most beautiful ideas was Inspector SUPER PUMA – a shoe where the sole was transparent, and the parent could see through the magnifying glass of Inspector SUPER PUMA – so this transparent area in the sole of the shoe – when the child arrived at the front of the shoe and needed new, bigger shoes. But my favorite PUMA is definitely the original SUPER PUMA, the brown laughing PUMA by Rudolf Dassler. The figure is also one of my absolute favorite pieces in my collection.
Which Super PUMA product would you like to see (again) in our PUMA stores?
Helmut: In my opinion, we should focus more products for young kids that bring both good quality and brand loyalty, that's what mascots are for. But it is nice to see the SUPER PUMA making a comeback this year with a new collection and the NFT story. That's why we also have a special exhibition now on our Bridge at Herzo!
Last question: Why is the SUPER PUMA actually green?
Helmut: That's simple, the dark green used to be our company color back in the days!
THANK YOU HELMUT, FOR SHARING THE STORY OF OUR BELOVED MASCOT – OUR SUPER PUMA!