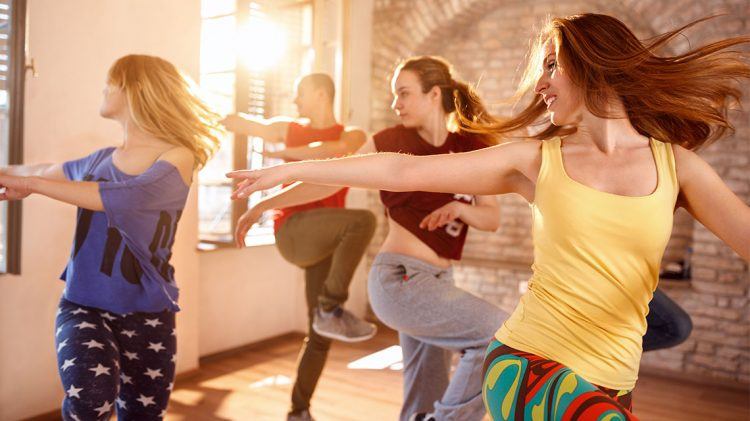 Stale workout?
Liven it up -
with dance!
Dance your way to a fitter you
January 22, 2020
Dance your way to a fitter you
January 22, 2020
Not everybody has found their perfect workout yet. And with hard-core athletes preaching, "No pain, no gain", it's no wonder that the idea of rigorous exercise routines can be daunting. Don't fret.
You lace up your sneakers. Only this time, your brain provides surprisingly little resistance. Why? Because it's time to dance.
Though you're bound to work up a sweat, dancing like no one's watching brings out that inner child and releases some serious dopamine. Sound good? It is!
Studies have shown that frequent dance sessions promote weight loss, and a majority of the participants rated the workouts as fun and effortless. And the impact is real. Dancing can help you to burn 400 calories, or the equivalent of half of a light meal! 
While we wrote about this back in 2017, because it's such a timeless topic, we decided to revisit it. Although it sounds too good to be true, dancing can in fact become an addictive, whole-body workout, which is just downright fun. When done right, a good dance class doesn´t feel like a workout at all. Here are four reasons why you should shimmy into that next dance workout ASAP.
1. Health benefits
Did you know that dancing is as efficient as jogging? And as a bonus you can improve the condition of your heart and lungs and also strengthen your muscles. If you are dancing on a regular basis, it even helps you to manage your weight. Dancing encourages the burn of fat and the best part is, you begin to shed calories the second you start moving your body to the rhythm of the music. While a ballet dance class can help you burn twice as many calories as a contemporary dance class, it's important that you find a dance course that suits your interests and lifestyle. But we'll get to that in a moment.
2. Anywhere and anytime
If you don´t want to start dancing at a studio, why don´t you just try it at home? You can dance almost anywhere: in a disco or even on the streets. And whenever you´re in the mood. An additional advantage: you don´t need equipment, just a willing body together with a set of ears, to groove to the music.
I always encourage my athletes to follow their passion. If you find something that you love to do, it feels less like work, and more like play. This is the perfect setup for a successful workout routine!
3. Find your favorite style
Since there are so many existing styles and tendencies: Hip Hop, Zumba, Latin and Ballet, everyone can find their own individual style – one which compliments their personality. Whether you like moving fast or want to learn more technical steps, you can experiment until you find what matches your needs the most.
4. Fit with matching music
Not only does music get you into a good mood, it´s a prerequisite for a dancing class. The right music can shape a whole culture, Hip Hop for example. So, what´s stopping you? Regardless of whether you sign up for a class or just get up and dance to your favorite music, it won't be long until you see results first-hand. Get fit and even lose weight without feeling like you've worked out.
Now 4-3-2-1. Get your inner-dancer on.