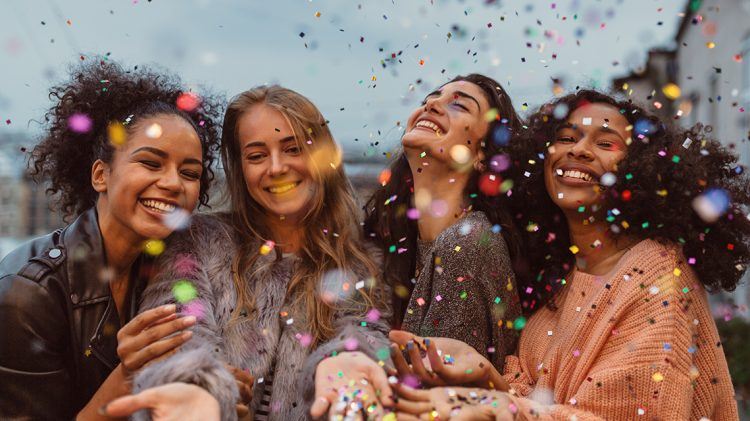 Body Positivity
Be nice to yourself
November 14, 2018
Be nice to yourself
November 14, 2018
A movement that just 'moved in' and we favour to stay forever:
body positivity.

On Social Media we can finally see more authentic and real pictures of female and male bodies with hashtags attached such as #selflove #bodypositivity and #stopbodyshaming. The central question is: how do I get comfortable with my body? A guide to

your individual ideal.
Step 1: Let's figure out where these unrealistic standards come from! It is a proven fact that fashion and fitness models starring in advertisements on TV, in magazines or on social media have an immense impact on how we measure beauty and the so-called 'perfect body'. With that frame, looking down at yourself focusing on your supposed flaws can hurt a lot. Pictures matter. You might get the feeling that you are not good enough: this is body shaming.
Solution: Know that comparing a 'one-in-a-million-superstar model' to your body is not only unrealistic – it is unfair to what you do every day. If you remind yourself of the fact that these people get paid for daily workouts and daily cosmetic treatments, it appears to be a lot easier to give yourself some credit when you make it to the gym once or twice a week, even after your regular job!
Step 2: How do you see your friends' bodies? When they complain about their 'after baby body' (can we please clear the term from our vocabulary btw?) or how they fail in following their weight-loss diet, wouldn't you want them to love and appreciate themselves the way you love and appreciate them? Well, how come you only see how great your friends are but fail to realize your own merits?
Solution: Try to give yourself at least some of the rewarding and uplifting words you continuously bestow on your loved ones. Self-love is the key and while there is no universally applicable "How-to-Love-Yourself-in-5-Steps" that works for everyone: Try to work out what your friends appreciate about you. Next step: push yourself to name a body part you like about yourself – it can be anything: your hands, your shoulders, your hair. Focus on that specific part more often!
Step 3: Whether you do or don't have children yet, think about what it feels like when your own children hate their bodies? Ouch. When they are young, children watch and compare their bodies a lot. They are easy bait to illnesses like eating disorders or depression. Affected persons sometimes suffer life long consequences.
Solution: Don't be so hard on yourself. You might easily be the only person that sees your allegedly most prominent 'flaws' and even if you're not: they don't change the precious human being you are. They just don't.
Image gettyimages