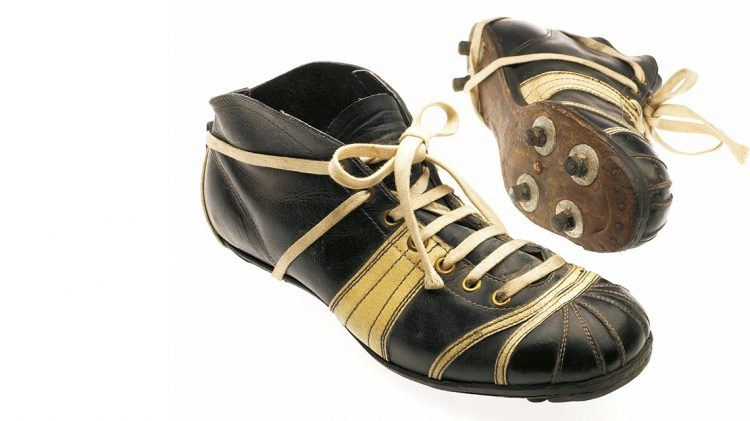 PUMA Archive
A Culture
of "Firsts"
Innovation has always been in our Nature
June 15, 2017
Innovation has always been in our Nature
June 15, 2017
In our almost
70-year-history

, PUMA has often been the first brand to introduce

ground-breaking innovations

in sports and fashion. Newness has always been in our nature as a true sports brand and we used all our expertise to help athletes to get to the very top in their sports. We have set trends in fashion that left our competitors with nothing but late copies.
Come with us on a
journey through time

and enjoy some of the best moments in sports ever.
We were the first to make sure you get a grip in 1952
PUMA developed the world's first football boot with screw-in studs together with experts, such as West Germany's national coach Sepp Herberger. The launch of the "SUPER ATOM" in 1952 marks the beginning of PUMA's highly successful heritage in football.
We were the first to bond in 1960
We were the first sports shoe manufacturer to use the technologically advanced vulcanization production technique, whereby the sole and the shaft of the boot are bonded. This innovation helps PUMA athletes to achieve top performances.
We were the first to make sure you get an even better grip in 1960
There was a time when football shoes were uniformly constructed from smooth, supple leather. To try our alternate materials meant breaking an unspoken code. But PUMA ignored the convention of those times and made a shoe with aggressively textured rubber on the vamp. This was arguably the beginning of what came to be known as power football shoes.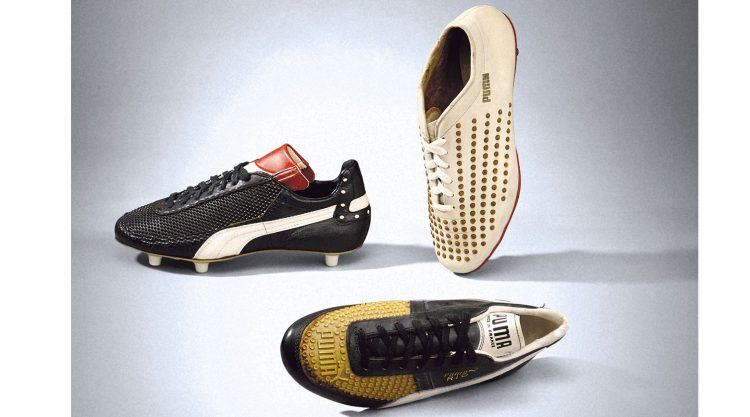 We were a pain in 1968
The Brush Spike, designed in 1968, featured Velcro for the first time on performance footwear. But it was the brush spikes themselves that really pushed the limits. The tiny rows of spikes – 68 small, only 4mm long bristles in the front area of the foot – maximized traction and minimized resistance. The innovation worked so well that numerous American athletes, who wore the boot, set new world records just a few weeks prior to the Olympic Games in Mexico. However, according to the association, the shoe is deemed "too dangerous" and consequently banned. All athletes wearing the shoe have their world records withdrawn – a fact that has not been rectified until today.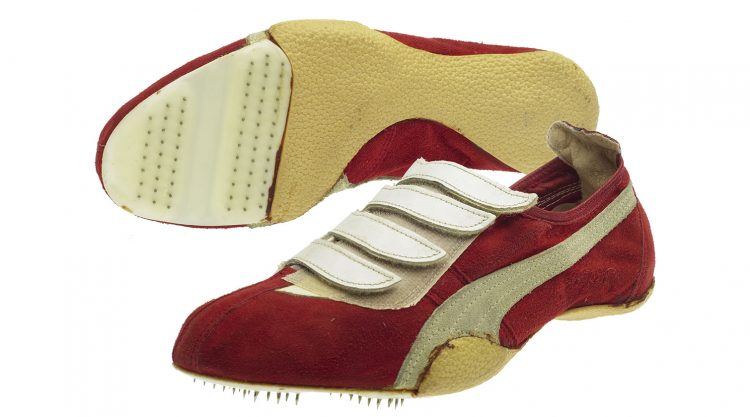 We were a revolutionary King in 1970
The PUMA KING from 1970 comes with a revolutionary flat structure that makes it lighter. In order to increase its softness and comfort, kangaroo leather is used for the very first time.
Pelé wears PUMA KING boots and helps Brazil win the country's third World Cup title.
We were functional in 1970
What started as a functional solution for reducing strain on the Achilles tendon has become a signature visual detail of PUMA footwear. The white cutout on the back of so many shoes visualizes a zone where material was removed to allow pressure relief on the vulnerable tendon.
We were the first to introduce flexible cleats into cycling in 1976
Cyclists in the 70s used nails to attach the cleats to the soles of their shoes. Once nailed, the cleats' positions were fixed. At the 1976 Olympics in Montreal, PUMA debuted the innovative Olympia-Sprint which featured a plastic sole with cleats that could be re-positioned according to the riders' needs. The outcome was the ability for racers to optimize their foot angle, improving efficiency and speed while sprinting.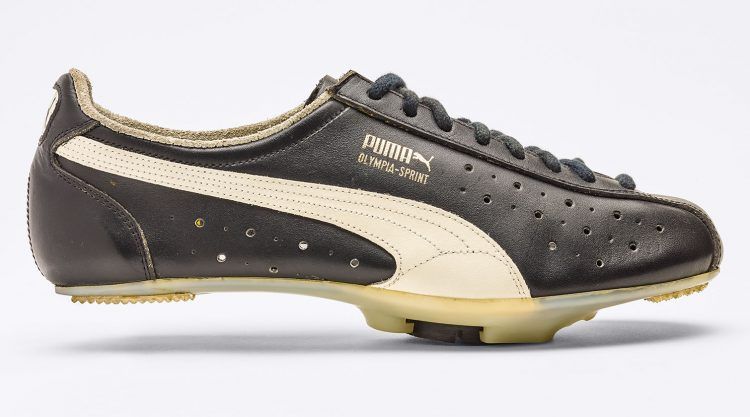 We were the first Sports Brand on an F1 Race Track in the early 80s
This driving boot, designed for Stefan Bellof, was the first shoe made for a Formula One driver by a sportswear brand. Bellof commanded attention in 1983 when he drove the fastest lap to date around the Nürburgring. At a time, when race car drivers had a 20% chance of dying in their car, PUMA designers prioritized safety and protection, as seen in the notable height of the shoe, while maintaining the minimalist needs of the driver, such as light weight and exceptional pedal grip. The Speed Cat was based on this shoe and is one of the most commercially successful shoes in PUMA history.
We were open in 1982
Armin Dassler took inspiration from a bendy straw to invent the Torero Duoflex Sole. This revolutionary technology made athletes like Diego Maradona even more nimble and paved the way for molded flex zones that are still in wide use today.
We were connected in 1985
Boris Becker needed a shoe to help him take even more risks on the court without incurring more injuries. PUMA worked closely with the champion to understand his style of play. The result was the first mid-top tennis shoe that prevented ankle turning and provided the tennis star the confidence and protection to take flight.
We were ready in 1986
Being ready far ahead of our time, PUMA understood the importance of data to the athlete. At a time when the personal computer was not widely known, we put one on the heel of a running shoe. Our runners were tracking speed, calories burned and distance covered with the PUMA RS back when computers were still magic boxes.
We were laceless in 1991
After being the first performance wear company to eliminate laces by incorporating hook and loop in the 1960s, PUMA outdid itself by developing the DISC lacing system. This technology, which was developed in the early 1990s and is still being used and refined today, allows snug, custom fitting. Internal wires are tightened by a simple twist of the DISC.
We kicked off innovative marketing in 1996
At the Olympic Games in Atlanta in 1996, we caused a stir with contact lenses: at a press conference, Linford Christie appears with a white PUMA cat on top of his pupils. PUMA's contact lens campaign later becomes a symbol for innovative marketing, not only in the sports industry but far beyond.
We were the first to introduce sports to fashion in 1998
As the first sports brand, we merged sports and fashion through a cooperation with star designer Jil Sander. Lifestyle versions of the "KING" and the running shoe "Easy Rider" were launched in close collaboration and became desired fashion sneakers.
We were the first to merge sports and lifestyle in 1999
We launched the "Mostro" and kicked off one of the largest trends of the last decades: the fusion of sports and lifestyle. The PUMA Mostro with its typical Velcro fastener and spike sole is a combination of two shoes – the Sprintspike from 1968 and a surfing shoe from the 80's. The result was a brand new and unprecedented lifestyle shoe which was quickly picked up by fashion icons like Madonna.
We were the first to go sleeveless in 2002
In 2002, the Cameroon Indomitable Lions became the first African football team to make it to the World Cup quarterfinals. PUMA celebrated this first with another first by issuing the team with sleeveless jerseys. The jerseys were banned by FIFA, though praised for their comfort and style.
We were daring in 2002
Serena Williams caused a stir worldwide in her skintight "Catsuit" at the US Open in 2002.
We were brave in 2004
Everyone knows a football kit is made up of two pieces.
Says who?
The one piece UniQT designed for Cameroon's Indomitable Lions removed unnecessary bulk and limited shirt grabs, setting the stage for football that was unstoppable.
We were the lightest Football Shoe at the World Cup 2006
The v1.06, which was unveiled for the 2006 World Cup, was the world's lightest football boot. Weighing only 200 grams, its ultra-thin ConTec microfiber upper gave athletes unmatched speed and improved ball feel. The grass "camouflage" was a never-before-seen visual expression designed to disguise the fleet feet of PUMA players from their opponents.
We were ultimately racing in 2007
Red + form-stripe + Ferrari + world champion = FAST! The SF Future Cat Hi was the racing boot of choice for Michael Schumacher, the greatest driver in Formula One history. It's no wonder, what with its ultimate functionality details: the hidden lace loops create a smooth and streamlined upper, the low-profile outsole, asymmetrical lacing, and split heel offer agility, sensitivity, increased blood circulation, and supreme pedal precision.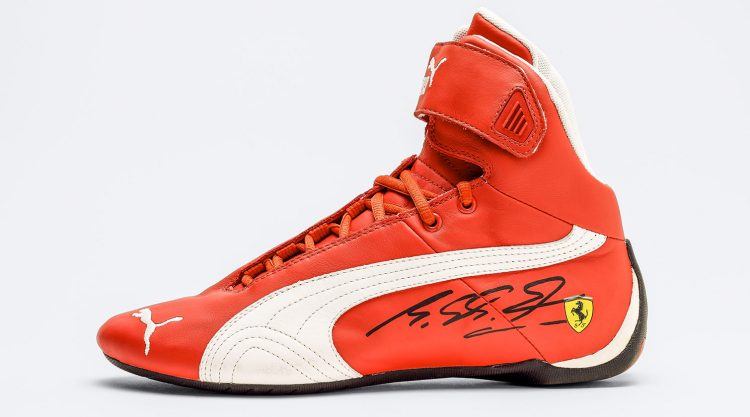 We smashed Sprint World Records in 2009
We wrote sports history in 2009, when sprint hero Usain Bolt smashed the 100m and 200m world records in Berlin. Lightning Bolt broke the 100m world record with an amazing time of 9.58 seconds, when he seemingly effortlessly blew away his own world record of 9.69 seconds by 0.11 seconds that he set exactly a year before on the same day at the Olympics in Beijing. He manifested his reputation of a sprint superstar when he smashed his 200 meter world record of the year before to become the World Champion in 19.19 seconds. With the Jamaican team coming in first in the 4×100 relay in 42.06 seconds, he finished an amazing race week by adding another gold medal and World Championship title to his track record.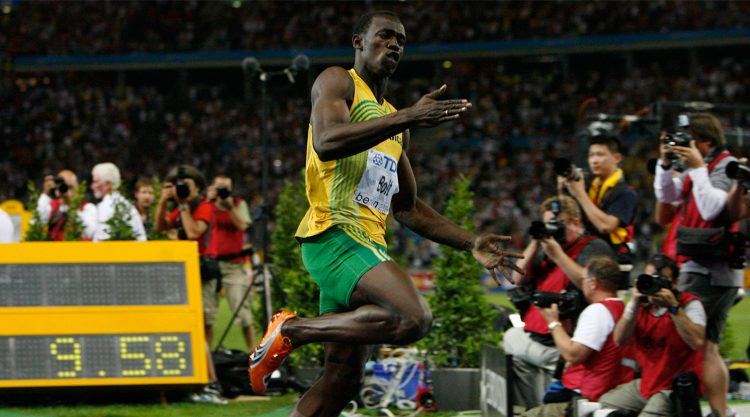 We were the World's lightest Racing Shoe in 2013

New rules for weight reduction in Formular One racing spurred PUMA to create the world's lightest racing shoe. Extensive research and design innovation have come up with a shoe that fulfills the comfort and fit requirements of top drivers and still weighs in at only 98 grams per shoe.
We were just simple in 2014
PUMA DISC technology from the early 1990s continues to be streamlined. The cable lacing system once seated in a large plastic base is now contained within a low-profile cylinder that rises just above the surface of the mesh upper. The technology is the shoe's primary visual element, eptomizing simple design.
We played 'Tricks' in 2014

Just in time for the 2014 FIFA World Cup in Brazil, we revealed our PUMA Tricks, a new colourful interpretation of our evoPOWER and evoSPEED football boots. The unusually coloured boots represent the unshakable confidence of players who wear them, and evoke their potential to do the unbelievable. Mario Balotelli, Cesc Fàbregas, Sergio Agüero, Marco Reus, Radamel Falcao, Olivier Giroud, Gianluigi Buffon and Yaya Touré were amongst those who sported them.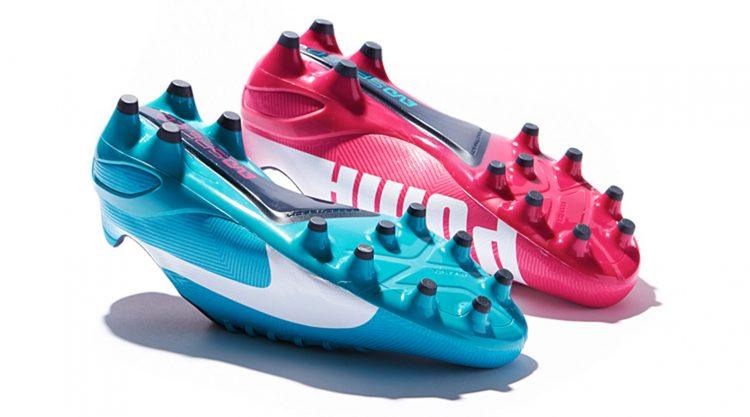 We arrived in the future in 2015

Ever since Marty McFly in "Back to the Future 2" time-travelled to the year 2015 and put on shoes that tied themselves automatically, that year was the year when auto-lacing footwear had long been expected. And guess what? We delivered.  That year, we unveiled a pair of PUMA sneakers with an Ignite sole that came with an automated tightening function of our patented Disc system. At the touch of a button, the wearer fastens the shoes. Depending on which way you press the Disc, the shoe either gets tighter or looser.
We created science fiction in 2015
Imagine information on speed, rotation per minute, fuel usage and race lines is automatically displayed on the visor of your helmet, while driving a racing car? Sounds like science fiction? It is not. In 2015, we joined forces with BMW to create a futuristic driver suit, that uses Bluetooth technology to transmit data from BMW's "CSL 3.0 Hommage R car" to the driver.
We kept you warm and cool in 2016
In 2016, we designed a jacket with adaptive dynamic thermoregulation, the evoTRG Thermo-R Vent Jacket. It has ergonomically-placed inserts that adapt during your moves: they open when you are running to keep you cool and close when you stop to keep you warm. This jacket is so amazing, that it was chosen as Winner in the ISPO AWARD 2016 category Apparel Performance Products Outer Layer.
We were again the World's lightest racing shoe in 2017

We wanted to create the most minimalist solution and we did. In 2017, we designed a Formula 1 shoe that looks like a sock. The idea was to make the lightest shoe, so we knitted an upper in one piece made of Nomex. We then added a neoprene outsole, which is the world's lightest and provides most grip – important features, because the sole acts as the critical interface between the drivers and their race cars, facilitating lightning-fast throttle and brake responses.