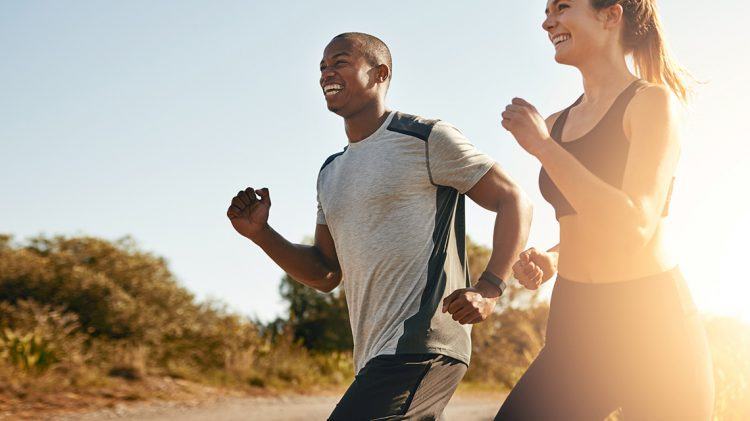 Better
together
The Benefits of a Workout Buddy
May 14, 2017
The Benefits of a Workout Buddy
May 14, 2017
Have you ever had one of those days where you don't have the energy to train? Felt too busy, tired, overwhelmed or unmotivated to get to your next workout? Let us share a simple trick with you
to help blast through training plateaus

.
We have all been there. And it's those kinds of days that I know I am most in need of the sweaty, endorphin-filled post-workout high. The question then becomes, how do you combat days like this? Let me share with you a simple way to make your sweat sessions hard-hitting, consistent and fun.
The secret lies in recruiting training buddies. And here is why.
1. You will train harder.
Ever wondered why you can push harder (and for longer) in a workout with others cheering you on compared to solo sessions? The Köhler Effect is the phenomenon that occurs when individuals train at a higher intensity when part of a group as opposed to when working out alone. In fact, people who train together are shown to work up to 200% harder than those training solo.
This makes for a more effective workout that will take you beyond your comfort zone and produce greater results. Keep in mind, however, that you may be of a different fitness level to your partner, so make sure to train within your own limits and focus on quality repetitions over quantity.
2. They keep you accountable.
Consistency is key in building strength and cardiovascular fitness, so it makes sense that being accountable to someone for your actions has a significant impact on results. Some days half the battle is just getting out the door and yet when you have made a commitment to a friend to show up, cancelling a workout becomes much more awkward.
In addition to being more likely to train, studies show that with a training buddy by your side you are less likely to quit. #winwin.
If you haven't found the perfect training partner (yet), don't worry. Start by sharing your fitness goals and commitments with a supportive person in your life and ask them to check in weekly with you. Using a support network like this is a great way to keep you on track.
3. It's more fun.
Not surprisingly, studies have found that people enjoy training with others over training by themselves. Injecting fun into fitness makes leading a healthy lifestyle sustainable.
To sustain long-term change, you need to have people around you who support you and boost you into action when you are flagging on your commitments. Don't settle for any old training partner, surround yourself with like-minded people who share similar fitness goals. Look for someone who encourages you to tackle new fitness challenges, get outside of your comfort zone and have fun while doing it.
At the end of the day, there is just something special about finishing an intense workout with others – an undeniable bond that you made it through together. You pushed and cheered each other on through a workout that could have otherwise been missed. You are all one step closer to your goal and would not have pushed quite so hard without that much-needed support. It's cheesy, but it's true: Teamwork makes the dream work and that's why training buddies are awesome.
Try my favourite partner High Intensity Interval Training (HIIT) session – A fun, effective workout that you can do anywhere.
PARTNER HIIT
60 seconds work : 60 seconds rest
2 rounds
One person trains, while the other person rests and vice versa.
The person who is resting becomes the 'cheerleader' and counts the number of repetition their friend completes.
Record the repetitions and try to match or beat your own score in the second round.
Shuttles runs
Push-ups 
Burpees
Sit-ups 
Squat jumps