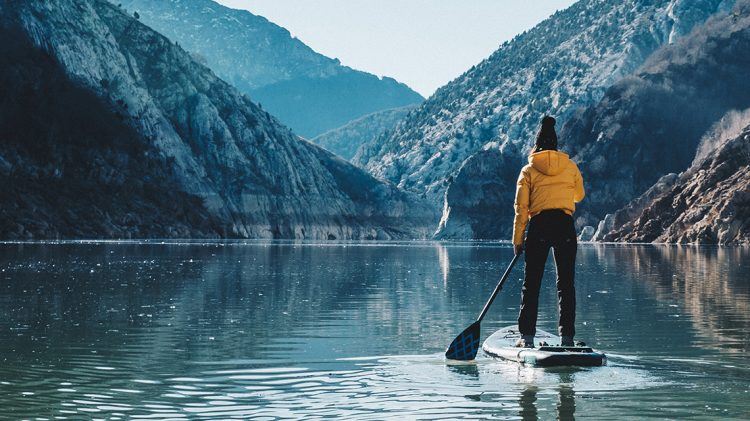 5 creative ways
to get more nature
into your life
Green exercise – it's a thing
April 8, 2020
Green exercise – it's a thing
April 8, 2020
Integrating more outdoor time into your routine is good for you. Think:
better moods, increased mental clarity and memory, lower stress levels, a healthier immune system

— the list goes on! Plus working out in nature, or

'green exercise'

, as it is commonly called, appears to offer an array of advantages in comparison to sweating it up indoors.

We get it though, with our bustling lifestyles the craving to get back to nature can seem more like a distant dream than a reality. But the thing is, incorporating more elements of the natural world into everyday life doesn't have to be time-consuming or costly if you get a little creative.

Check out these easy ways to get into contact with mother nature.
Take a walk
There is no need for a lengthy road trip, connecting to the natural world can be as simple as stepping out of your front door and hitting up the nearest park or green space. Going on a brisk walk in the great outdoors is a convenient and accessible way of adding some more fresh air into your life.  Plus, while a quick walk anywhere has benefits (improved cardio health, muscle toning etc.), walking in nature also helps boost your emotional health and stabilizes your mood.
Change up your schedule
Make a point of walking or biking to work at least a few times a week. Bonus: this can help lower your carbon footprint while burning some extra calories. You could also try scheduling your next work meeting on-the-go, opting to head to the nearest park rather than spending the whole meeting under artificial lights. The fresh air can improve your creativity and perhaps help you and your colleagues see some new solutions. Remember to switch up your indoor workout to outdoor, whenever possible and get extra energized by this style of training.
Book a nature date
Spending time in nature with others means you get all the benefits of being outside with the added bonus of socializing. Swap your happy hour drinks for a happy hike; take your husband, wife, significant other, mini-me's, dog or favorite book to the park for a picnic, get creative and get yourself (and your loved ones) outside — they'll thank you for it.
Surround yourself with plants
Houseplants are a great way to incorporate more nature into your life, and they humidify and purify the air in your home, which improves your respiratory health. Studies also indicate that surrounding yourself with plants can help you to focus, lower your blood pressure and decrease fatigue. Build a jungle in your home or office — or just start with a simple desk plant.
Find your Zen in nature's symphony
Instead of tuning out of the daily chaos, get yourself to the nearest natural area and tune in.  Meditating in natural spaces, also known as forest bathing, can help lower heart rates, synchronize and slow brain waves, and generally help you relax big time. If the real thing isn't available to you, try a playlist of nature sounds and let yourself recharge while envisioning yourself sinking into the wilderness.
In the end, strengthening our connection to nature is essential to our well-being. Commit to spending more time outdoors, soaking up the fresh air, natural lights and sounds, and reap the benefits.
And if you feel disconnected and want to widen the reach of your outdoor adventures, why not share it on social channels with the PUMA world via @PUMA and @PUMAPerformance using the hashtags #StrongerTogether and #GreenExercise.