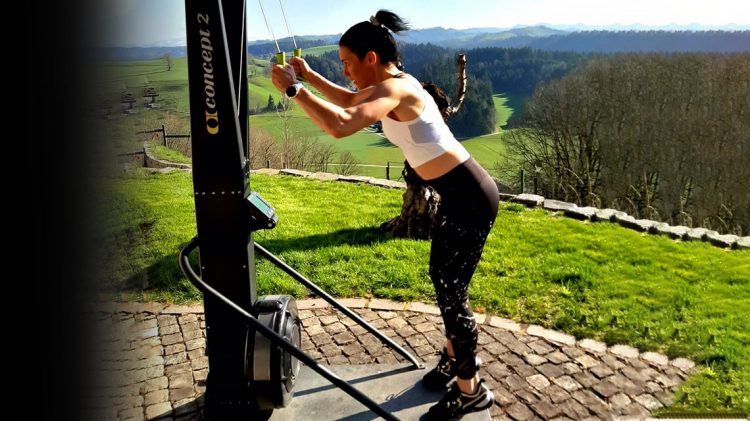 Motivation
is key
PUMA employees share their work out strategies with us
May 6, 2020
PUMA employees share their work out strategies with us
May 6, 2020
For many of us, the past weeks have been tough. We juggled home-schooling kids while working remotely and also tried to fit in a workout routine to maintain our strength. We talked to two PUMA employees to get some insights into their fitness strategies. How do they stay motivated?
Cross Country Ski
After Karin Weltert's season of competitions was cut short, reduced workout hours and alternative training sessions have taken over.
The Key Account Manager's preferred training device is the SkiErg, because it is perfect to prepare for long-distance double poling competitions during the summer season.
Her weekly workout looks like this: training one or two times a week for 30 to 45 minutes. To keep it interesting, she's doing intervals: alternate running over 8×300 meters with doing as many watts as possible on the device and resting for one minute in between. "This training is very suitable for my planned Hyrox participation in November in Basel, " said Karin. She also just finished the virtual HYROX HOME SERIES, which offered a great alternative for performing exercises with only your own body weight.
The Hyrox Home Series wasn't easy and very exhausting. But I had a lot of fun and I'm happy I finished it. The challenges strengthen your body and give you an extra motivation to keep up. I'm sure if you do it regularly, you'll improve your personal fitness level.
Besides strengthening her muscles, Karin performs a short yoga session every day. The Cross Country Skier loves to kick-start the day with yoga shortly after getting up, which will help you to maintain a daily routine. 
Football
Michele Rinchiuso recommends the following to maintain your overall fitness level:
His personal routine consists of running six times a week for about 40 – 70 minutes, mostly in the evening. Until April he additionally pursued his own workout plan, four times a week doing only core and body weight exercises.
During April, the retired footballer started a challenge to follow a shared workout plan together with two friends around the globe. "We recorded videos and shared them with the others as proof of successfully completing the exercises,"comments Michele "For not fulfilling the proposed exercises one day, certain fines were applied with the intention to spend the income on drinks once it's allowed to see each other again." Working out together via video stream or having challenges with friends will push you to actually do these workouts every day.
There is no "formula X", which will help everyone. As long you try to physically move and do the things that make you happy, I'm sure any program or any sport helps to keep up the motivation.
Due to the uncertain times, staying mentally on top should also be a priority: In order to bring body and soul together, Michele is meditating once a day for about 20 minutes and reads books for at least 45 – 60 minutes. 
Hopefully you can adopt some of this inspiration into your daily routine. Keep going!