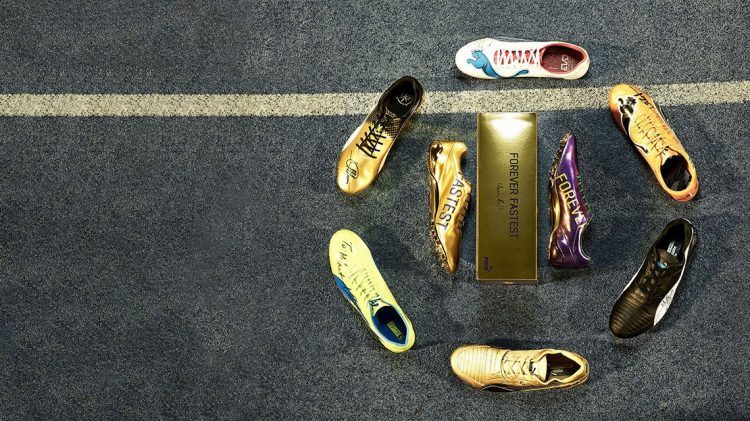 Legacy Spikes
for a
legendary athlete
What it takes to develop the perfect sprint shoes
August 23, 2019
What it takes to develop the perfect sprint shoes
August 23, 2019
It is now 10 years and one week that Usain Bolt clocked a seemingly unbreakable 9.58 seconds over 100m. Obviously, he is one of the greatest athletes of all time.
And
a legendary athlete needs legendary spikes!
Steven Keating, Creative Director Running, Training, & Golf, worked on almost all of Usain's spikes and told us how he and his team come up with the perfect ones that help propel not only Usain, but all our athletes to victory.
"The starting point for all track spike designs is the needs of the athletes and the last, the shape of the spike's internal volume." The shape of the last is vital to the shape of the track spike and the fit for the athlete.
"Usain has a very special foot shape. For his World Record Spikes, the Running team worked with Usain to create a custom last after using a 3D scanner to get his exact foot shape," said Steven.
The spikes' share of the success
To help propel athletes to victory, spikes not only need to have the perfect shape, they also have to work perfectly. "A perfect spike adapts to the foot and is lightweight. It provides perfect traction and the maximum support and lockdown according to the foot shape."
These guys are the fastest in the world. And in Jamaica, they often train without spikes on grass. Once they are on a track wearing their spikes, they are so much faster!
Where's the camera?
Once the spikes fit the athletes perfectly, the next step is making them pop out! "Usain's spikes always stood out from the track, because we designed them to," said Steven. "We always have a look at the color of the track where the respective event takes place and make sure that the spikes pop out." At the Olympic Games in Berlin 2009 the track was blue, so Steven and his team designed orange spikes for Usain.
The designers also take care of an extremely proud branding as Olympic Games or World Championships are a great stage. The cat logo on Usain's world record spikes for example, is placed at a prominent spot on the spikes for the camera. When the athletes are filmed in the starting blocks right before the race starts the camera captures the logo perfectly.
A decade
of Legacy Spikes