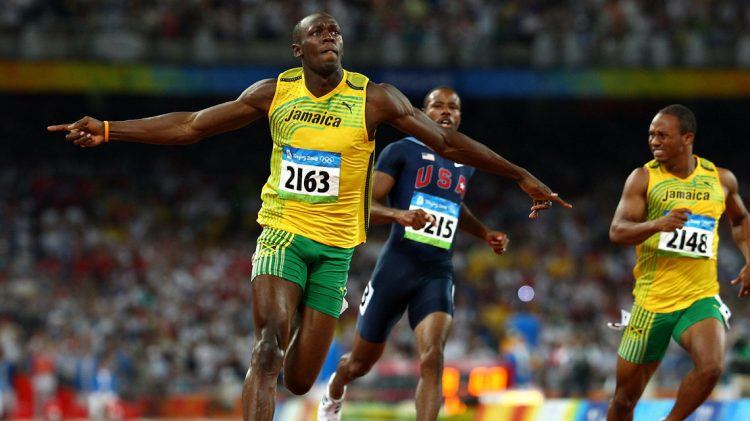 "I want to
be a proper
athlete"
Usain Bolt on success & being different
September 8, 2014
Usain Bolt on success & being different
September 8, 2014
He came as a spectator. It must have prickled in Usain Bolt's feet when the Jamaican was just allowed to watch Britain's James Dasaolu sprint to gold in 10.06 seconds over 100 metres at the European Championships in Zurich.
While he was not at work,
CATch Up grabbed the chance for an interview

and found out what Usain had learned from a woman, how fast he thinks he can run and what he still needs to do to become a proper athlete.
We have recently launched our Forever Faster media campaign. In the TV spot you are sitting in a nice Jacuzzi, enjoying yourself. Is this the lifestyle you like?
Well, I am in that tub with some beautiful women and I certainly like that (laughs).
 What does Forever Faster mean to you?
Everything. It's a great slogan, it describes me perfectly. I am forever faster. When PUMA came up with this I thought, they must have been thinking about me. Yes – this is me.
The campaign is called "Call on all Troublemakers". Are you a troublemaker?
No, I am just a fun person. We are just having fun in that spot and we are making fun look different.
 What is your goal for this season when there are no major races?
I have just recovered from some injuries and this season I am focusing on the small details. This is one of my problems. I seem to not care enough about the small issues and then they become big ones.
Small issues like what?
I think I used to eat a lot of chicken wings and my coach got really talking to me, saying: "Listen, cut this out." I think next year, I am going to be on a proper diet. This is one of the little issues I am currently working on.
Next season is going to be a full competition schedule again going towards the World Championships in Beijing. What is your goal for this?
My main goal is always to win at the World Championships. If I am in great shape next season and I have no injury problems, I can go after the world record over the 200m. I will definitely attempt to break the world record and run under 19 seconds. But what really counts is winning the Championships and the gold medal.
It has been five years since you established that world record of 9.58 seconds over 100 metres at the World Championships in Berlin. Do you tell yourself that you want to be the World Record holder in 10 years?
World records do not matter to me. I always tell the people: "Listen, I have the world record. Why should I worry about breaking it again? The other guys should be worrying about breaking my record, not me." But this is just the thing: people want to see world records all the time. If I could have staged it, I would have broken it little by little, and not in such a big step (Editor's note: from 9.69 seconds at the Olympics in Beijing to 9.58 seconds in Berlin.)
What comes to your mind when you think about that run in Berlin?
This was all about proving myself right. The year before, people were saying: "Oh, yeah. He broke the world record, but Tyson Gay wasn't in the race." For me it was proving to the world that, no matter who is in the race, I can do it.
Is it true that if you trained harder, you could still be running faster?
I have said to myself that in the season leading up to the Olympics in Rio, I want to be a proper athlete – just eat, sleep and do Track and Field. I have never really done that, but I will train more and try my best to be a complete athlete.
You have achieved so much already. Is it hard to keep up the motivation?
It is all about making new goals. I have just set myself new goals. I want to be a three-time Olympic champion and I want to run the 200 metres under 19 seconds. This is what I want and I know that I have to work really hard to get it. It is all about setting the bar high. Michael Johnson set the bar high and I came in and set it higher.
Do you think there is a human limit in the 100 metres?
I would like to say "yes", but over the years, I have heard people saying: "Oh, you cannot do this" and then I did it. I have stopped putting limitations on myself. I think that everything is possible and that there is no limit.
This year there were no competitions. Do you still have lots of doping controls?
Phew. You would be very surprised about how many I have. There is no difference in the number of controls between an event year and a non-event year. I get tested randomly on a regular basis. One thing that I find weird is that sometimes they will come on a regular basis and then you won't see them for a while, and then they come once and then again five times in two weeks. For me this makes no sense.
Being a world class athlete comes with a very disciplined lifestyle. What are you missing?
Nothing really, because I just do what I want. I go out, but I know when to stop partying. I love riding quad bikes, so I do it. Otherwise I would drive myself crazy. Okay, sometimes I have to be responsible, because I am training, but then I just stay off my quad bike.
Is it true that you ate Chicken McNuggets before the Beijing final?
(laughs) Pretty much. I had Chicken McNuggets and a salad. But no one talked about the salad.
You once said that you might be going through to the World Championships 2017 in London. Is this still on?
Yes, I think everybody wants me to continue. And I need to equal off my medals, I gave one away in 2011 when I had the false start in Daegu.
You are 27 and you already wrote two biographies. Famous people usually try to hide their private lives and you do not do that. Why is this?
I am different. You know, my life is really simple and I try to give people a glimpse into it, let them see who Usain Bolt is. And the thing is: If you tell the truth, you have nothing really to worry about. I have learned this from a woman: The more you tell the truth, the less problems you have.
What is the best advice you ever got?
I remember when I was in High School, I really wanted to play cricket. My dad said to me: "Son, I know you love cricket, but forget it. Do Track and Field. It is an individual sports and if you work hard enough, you will be great." That was the best advice that someone ever gave to me.
Is there any advice that you would give to someone?
Do Track and Field (laughs). No, seriously: Just enjoy what you do. When you enjoy it, you put your all into it. It does not matter what you do, as long as you love it.
Do you remember the times when you were slower than others? How did that feel?
When I was little, probably like 8 or 9, there was one guy who was faster than me, but that was for one year. I am really competitive, so I have always aimed to be the fastest. Tyson Gay really pushed me and made me all of a sudden want to do better. I do not like to lose. I always strive for the best until I get there.
Have you seen athletes who are as gifted as you?
There is this one kid called Michael O'Hara, who is 17 years old. He has not really developed yet, but he is doing very well. If he develops more, he is going to be a great athlete.
Do you already know what you will be doing after your career?
The only thing I know for sure is that I will still be working with PUMA. Besides from that I would like to try and play professional football. Hopefully, I will get a contract. It probably won't be a big team, but rather a small team somewhere. I am not saying that I will be great player, but it would give me a goal rather than sitting at home.
 And last but not least: What is the best place to go on holidays in Jamaica?
It depends what you want to do. If you want to have it more quiet and private, you would probably go to Portland. If you come with a lady friend, you best go to the Goldeneye. This is that proper nice relaxing place. If you want to party a lot, come to Kingston. Most of the people though go to places like Montego Bay. Go there if you want to be a proper tourist.