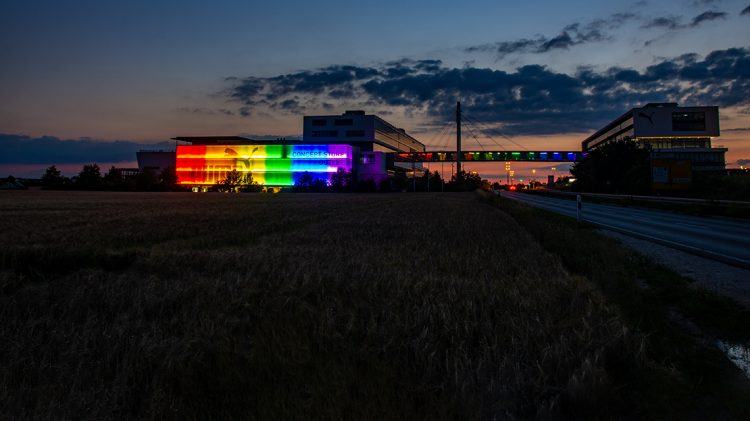 LOVE
UNITES US ALL
To celebrate pride month, PUMA HQ shines in rainbow colors
June 23, 2020
To celebrate pride month, PUMA HQ shines in rainbow colors
June 23, 2020
In honor of Pride Month, the PUMA headquarter turns into a bright rainbow after sunset. The brand center and the PUMA bridge can be seen in these bright colors until the end of July. At PUMA, Pride Month is all about being yourself and also being supportive and staying optimistic. With everything that is going on in the world at the moment, the celebration of love, pride and diversity seems to be more important than ever.
The rainbow flag is a symbol of the LGBTQ community and its associated social movements. The different colors highlight the diversity of the community. First used in San Francisco, it is now widely seen as a symbol for LGBTQ rights around the world.
Christopher Street Day is the highlight of Pride Month, with parades taking place all around the world. First held in New York 50 years ago, CSD remembers the Stonewall uprising. They were the first big rebellion of LGBT people against police assaults in 1969 on Christopher Street in New York City.
Earlier this month, Cara Delevingne partnered with PUMA for From PUMA With Love. It's a collection that's both perfect for taking to the streets for celebrations or marches and also just right if you stick close to home. Twenty percent of the proceeds from the items go to the Cara Delevingne Foundation, which supports LGBTQI+ charities including the Trevor Project, Mind Out, and GLAAD.
Pride shouldn't just be about the LGBTQIA+ community at the moment, it should be about everyone coming together and really supporting each other.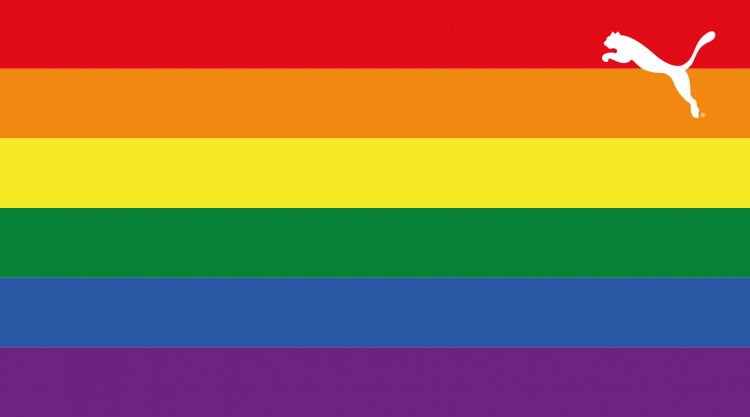 Diversity is an important key value of PUMA's working culture: It is the possibility to be yourself at work and the freedom of self-expression. For PUMA, it is essential to build teams as diverse as possible. Minds from all around the world come together at PUMA, with different backgrounds, skills, experiences in life and unique personalities.
The world saw great achievements for the LGBTQIA+ community in the past years. An overwhelming amount of brave and proud people marched in pride parades for their human rights. Today same-sex marriage is legal in 28 countries and discrimination in employment has been banned in the Western world since 2000. However states have different laws when it comes to any greater protection, same-sex civil union, same-sex marriage and adoption by same-sex couples. So unfortunately there is still a long way to go! In some countries homosexuality is still treated as a general crime.