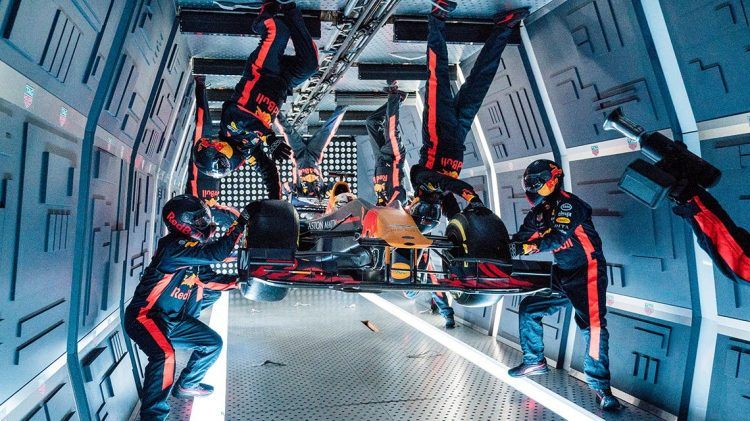 The sky's
the limit,
for some
PUMA race gear defies gravity
November 26, 2019
PUMA race gear defies gravity
November 26, 2019
PUMA race gear defied gravity in a somewhat unconventional recent pit stop practice for Aston Martin Red Bull Racing . The

Formula 1 race team

and

PUMA

partner took their training to a new level – quite literally – when they performed a

Zero-G wheel change

onboard a cosmonaut training vessel in Russia, dressed of course in PUMA, from head to toe.
Clearly, when you've performed three record-breaking pit stops during the 2019 Formula 1 Season, it's time for a new challenge. Aston Martin Red Bull Racing found theirs – at an altitude of 10,000m, aboard a cosmonaut training plane. The feat proves that PUMA's race gear not only helps the team to go above and beyond, but even defy gravity.
The successful completion of such a challenge requires training. For the team and the PUMA gear it meant a week of flights before the team could bring a 2005 RB1 car into the plane for the wheel change. The crew accomplished seven flights with around 80 parabolas, where the aircraft was climbing at a 45° angle just to fall in a ballistic arc at 45° again to experience a period of weightlessness of 22 seconds – almost 30 minutes of weightlessness in total.
Though Formula 1 teams deal with g-forces and a weightless-like feeling on the world's race tracks almost every day, a zero-g pit stop can be a challenge indeed (keyword "vomit comet"). In the end, they successfully completed their challenge and can say beyond a doubt that their PUMA race gear supports them in every situation in life, be it on the track or in the sky.
Photos courtesy of Aston Martin Red Bull Racing.