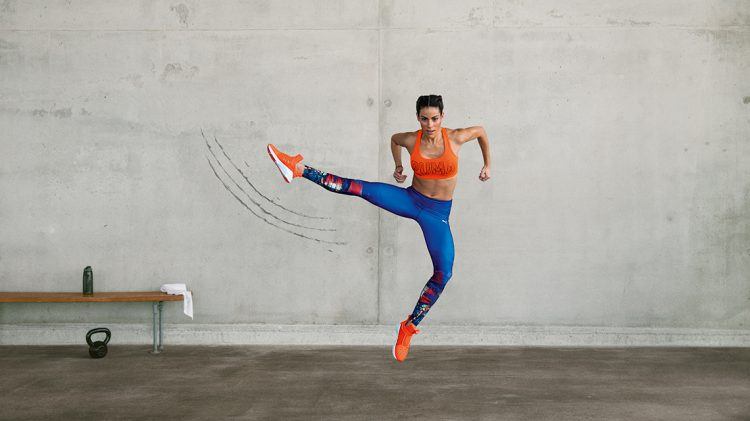 Why the fit
of a Sports Bra
is so important
We have introduced a new tool in our online store to find the perfect bra
August 18, 2016
We have introduced a new tool in our online store to find the perfect bra
August 18, 2016
You wouldn't go out running in shorts that are too wide for you, or a shirt that's too tight. It's just common sense. The same goes for what we wear under our exercise outfit.
As part of our the Future is Female initiative, we have just launched a nifty new bra finder tool on PUMA.com to help women find the right bra – whether that is indeed for long distance running, a turn on the treadmill, or a yoga session.
The PUMA Bra Finder comes up automatically when visiting the bra section in our online store, and gives the customer a pick of products depending on what kind of exercise you want to do – from high to low impact.
Choosing the right bra for the specific workout is really important, primarily to prevent bounce. For example, high impact bras are perfect for activities such as running, boot camps, volleyball – in short, any exercise that involves jumping up and down quickly. Meanwhile, medium to low impact bras can be worn for yoga, barre class, Pilates, or even as an everyday bra.
That's not the only factor when choosing the perfect bra, though. "Another consideration when choosing the right bra is cup, size, function and style," says Denise Smith, our Head of Design for Running/Training Apparel. "For example, high impact bras have built-in functional qualities such as power mesh for support and breathability, stabilizers to reduce bounce, adjustability as well as built-in cups for additional comfort and support."
An example is our PWRSHAPE bra, which offers all of the above without sacrificing style. "Our Women's Training designer Amy Wadcan created the PWRSHAPE bra and introduced a new silhouette that is inspired by a bandeau look. She also brought the power mesh to the outside to showcase its function in a fashionable way," said Denise.
Low impact bras like the Yogini bra, on the other hand, are less built up and often have thinner straps and removable cups. Heike Zenkel, Teamhead Content Management Global e-Commerce, likes the Yogini Live for the straps, which give an athletic back a nice female touch. She has been overseeing the implementation of the new Bra Finder on PUMA.com and its distribution to the different regions.
"The use of the bra finder is multi-facetted," said Heike. "It offers site visitors a way to actively engage with our products and makes the selection easier and more fun. It also reduces the returns rate, because you get what you ask for."
The Bra Finder is being rolled out on PUMA.com first in Europe, Japan and Russia (in the U.S., we are currently using a visual filter that has more or less the same idea behind it.)
Our bra finder
on PUMA.com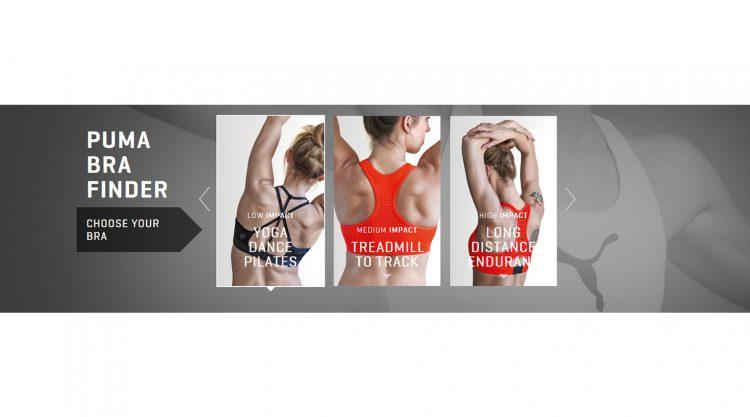 The PWRSHAPE Forever bra is currently our top selling piece and had been for the past few season. It is a mid-impact bra, best known for the large cat, or PUMA logo. It has also recently been seen on many Instagram accounts and top celebrities and influencers around the world. The Yogini Live is our second best-selling bra and is the most loved bra in the office. I think mostly because you can wear it for your workout or everyday life. It's super flattering but also supportive and stylish.