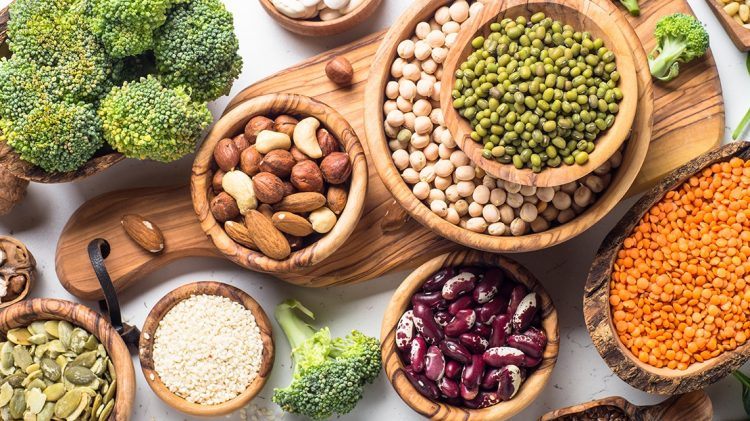 The best sources for
plant-based protein
Power foods for vegetarians
November 20, 2019
Power foods for vegetarians
November 20, 2019
Protein is one of the most talked-about topics in health and nutrition. Which is totally fair, because this essential macronutrient controls nearly every function of the cells, organs and the whole body. Protein is vital for
building muscle, maintaining strong bones, growing healthy hair

and so much more. That's why it is necessary to keep in check if you are consuming enough.

Although most are aware that you can cover your protein needs by consuming meat and dairy, more and more people are becoming interested in reducing their consumption of animal products, for various reasons. In fact, incorporating more plants into our diet is recommended for everybody. A growing body of evidence shows that the nutrients, vitamins and minerals from a plant-based diet can drastically improve overall health.

The right plant-based, whole-food diet can provide more than enough protein to satisfy your body's needs (and often has considerably less calories than a diet full of animal products). Shifting towards a more plant-based regime can be easy if you are mindful about choosing the right, nutritious whole foods.

To help the process we have put together some of the best options for plant-based protein:
Soy Products
Some of the richest plant-based protein sources are soy products, which also contain calcium and iron, making them a popular meat and dairy substitute.  They are also considered a complete source of protein (meaning they contain all nine essential amino acids that a human must consume)!
Depending on preparation, protein content will vary:
Tofu (soybean curds) have about 10 grams per ½ cup
Edamame beans (immature soybeans) have 8.5 grams per ½ cup
Tempeh (fermented soy) has 15 grams per ½ cup
Legumes (and rice)
We're talking lentils, green peas, red, black and yellow beans, and chick peas. Depending on the type of legume, you can get anywhere from 15-26 grams of protein per ½ cup.  Plus, they're an excellent source of fiber, phytonutrients, antioxidants, and are great for digestive health and helping reduce the risk of various diseases such as diabetes.  Serve with rice and you have yourself another complete protein source.
Nuts
Almonds are loaded with 16 grams of protein per ½ cup, packed with vitamin E and fiber, and an excellent source of Omega-3 fatty acids.
Peanuts are also a great choice with around 20 grams of protein in ½ cup. Full of healthy fats, peanut butter is a complete protein snack.
Spirulina
The protein powerhouse. In the form of green or blue algae, spirulina is composed of an incredible 65-70% protein by weight (the highest of any natural food), containing 4grams per tablespoon. It is also super rich in nutrients, contains 22 amino acids, and is a source of calcium, iron and beta-carotene.
Quinoa
With 14 grams of protein per ½ cup (uncooked), quinoa is a perfect addition to your diet and a source of potassium, magnesium, iron, B vitamins and fiber.
Seeds
Hemp Seeds come from the Cannabis sativa plant but have none of the psychoactive effects. They are an amazing protein source, with 15 grams of protein per ¼ cup, and have a whole list of beneficial health effects.
Chia Seeds contain 6 grams of protein per ¼ cup (and nearly 14 grams of fiber). Another complete source of protein, loaded with all the essential amino acids. Chia is a versatile source of many vitamins, minerals, and antioxidants, and is easy to prepare in yummy ways.
Seitan
Composed of wheat gluten, seitan has a satisfying meat-like texture that makes it an excellent substitute for meat and soy products. It is a source of iron, selenium and calcium, but watch out if you are gluten intolerant. Coming in at 21grams of protein per 1/3 cup, it shouldn't be overlooked.
Vegetables
All fruits and vegetable contain protein, but some have more than others such as:
Broccoli can provide about 4 grams of protein in single, medium stalk
Potatoes can contain around 8 grams of protein per serving, and are also high in other nutrients including vitamin C and potassium,
Dark-colored Leafy Greens such as spinach and kale can also be added to dishes to increase protein intake
Bottom Line
Stay healthy by eating a balanced diet that is rich in whole foods, sufficiently varied, and includes plenty of the delicious options listed above. With the right planning and proper education, you can definitely meet all your protein needs in the form of plant-based sources. And the good news is that there is no shortage of yummy choices!