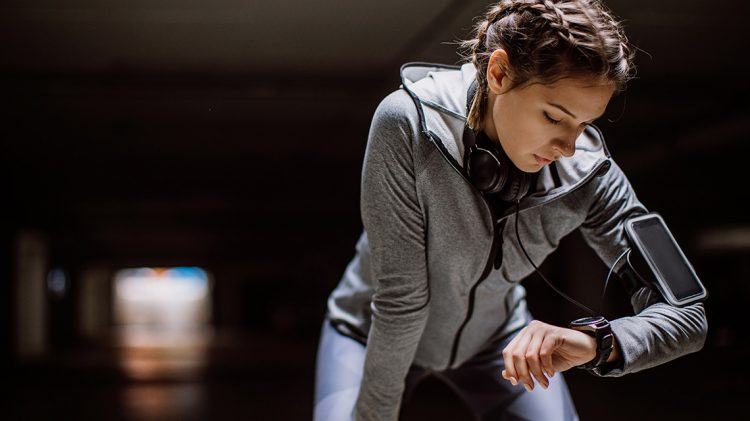 Tech Savvy
Does wearable tech really improve running performance?
February 26, 2019
Does wearable tech really improve running performance?
February 26, 2019
Gone are the days when you
simply lace up your runners, grab the house keys and jog

off toward the horizon. Back then it was a race between you and the pavement, every step of the way.
If you are anything like the average runner nowadays you will be all charged up; GPS watch, wireless headphones and smart phone, ready to go. From the moment you step-foot outside, you are connected, held accountable for every moment.
A once drifting mind now cluttered with thoughts.
Then comes that satisfying moment when you hit 'DONE' on your watch and await the showering of accolades and kudos through social media. YES! You can continue your day knowing that you are one step closer to your goal. Sound familiar?
The availability of wearable technology has taken running to a whole new level, allowing general population to track performance and gain specific feedback that previously was only available to athletes. Tracking your workouts can help to boost motivation and performance while applications like Strava have thrown running into a new ultra-social world where peers can follow your progress, providing encouragement and accountability along the way. On the flip side, it seems that the most simple form of exercise humanly possible has become overcomplicated.
An activity that was previously one step in front of the other, can now be as adrenaline-filled and expectation-heavy as a corporate board room. So let's get Tech Savvy and take a look at the pros and cons of wearable technology:
PROS
GPS watches allow an individual to get specific feedback on pace, cadence, heart rate and other measurables to help them identify weakness, track progress and Performance. This feedback provides external proof of training improvements which can be hugely.
Furthermore, recording data means we are able to share our training and keep accountable. Studies show that training with a buddy means that you will train not only harder and for longer but also more consistently over time and are less likely to quit. So what if it's not possible to meet up in person? Enter social training apps like Strava. Through these apps you can now connect to people all around the world and share your run complete with photos and a detailed map, join online running challenges and support and encourage each other. Making ist social takes a traditionally individual sport and elevates it to epic community proportions.
CONS
While technology has its benefits for training and performance, there are definitely some key points to be mindful of. Firstly, it's easy to lose touch with this very natural movement and develop a tech dependance, disconnecting with how you feel during a run and plugging solely into the statistics.
Ignoring natural warning signs like pain can lead to all matter of common running injuries like stress fractures, born through overuse and overtraining. Becoming dependant on technology can mean avoiding a run if we have misplaced headphones or the GPS function is playing up. It's become the norm to be forever "switched-on" and connected in busy societies where we are always working fiercely toward goals. There is an aspect of this that sacrifices the fun and freedom of running and lends itself to the build up of stress hormones, adrenaline and cortisol, negating the stress reducing benefits of exercise.
Lastly studies show that although specific feedback can be motivating for some, when performance is poor, this feedback can lead to reduced motivation. Step counters and activity trackers have been found to be off by up to 20%, therefore it's important to take these statistics on board with a grain of salt.
Running is a highly individualised experience. How does wearable technology effect you? I am a statistics driven person and while I love the constant feedback, I also understand that at times of high stress, technology can add unnecessary pressure to an activity I love.
Becoming Tech Savvy means listening to your body and paying attention to how you feel while
Credit: Getty/Istock: Pekic