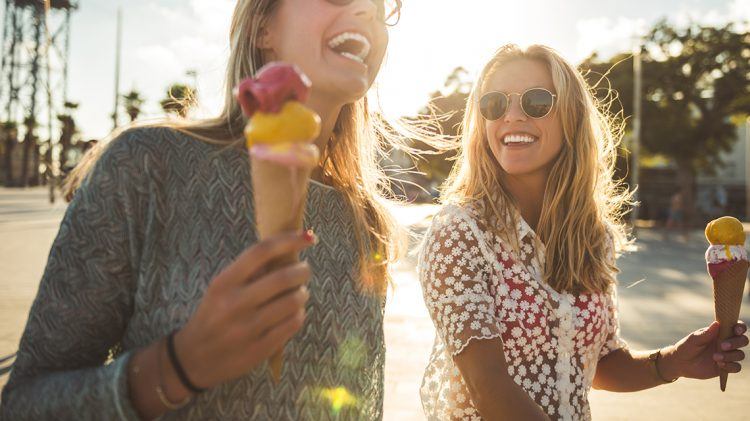 Summer
Sunday
Sound
weekend fade out
June 3, 2018
weekend fade out
June 3, 2018
Flowers are bloom, bees hum and birds chirp –
summer

is finally here! Every

sun ray

is an invitation to the closest park, forest, lake or sea. So before you start to cry about the closing weekend

dig out your sunglasses

, get out there and don't forget to fade in to our summer sunday playlist!
Sticky Fingers – These Girls (2013)
Australians must be born with a talent for that 'hang and loose' sound. Sticky Fingers became a band in 2008 in Sydney and currently, exactly ten years later, they are touring around the globe.
Tash Sultana – Jungle (2016)
And Australia strikes again: Tash Sultana is only 22 years old and went from street gigs in Melbourne to sold out gigs in concert halls around the world. We can't resist singing along 'Welcome to the Jungle' and we are so exited about everything new to come by Tash.
Cloud Control – Panopticum (2017)
Third time is a charm! All members of Cloud Control are Aussies, too. Their alternative rock pop was probably first played in the Blue Mountains and we are quite sure they first played 'Panopticum' on a summer sunday!
Sofi Tukker – Best Friend (2018)
An iconic duo. A woman and a man with musical hearts at the right spot. NY-based Sophie Hawley-Wild and Tucker Halpern turned their passion into action and don't you just love the result?
Unknown Immortal Orchestra – Multi-Love (2015)
The New Zealand quartet was founded in 2001 and -fun fact- originally named The Mint Chicks. Currently they are touring across the world to spread their 'Multi Love'. Catchy lyrics made to dance and sing along!
Calypso – Calypso Blues (2012)
Sounds like summer in your ear, right? Calypso in its original sense is a traditional afro-caribian style of rhythm and music, however singer Calypso Rose (born 1940!) has become a famous calypso star in Tobago. With her powerful voice and Manu Chao's help she had a world wide revival in 2016.
Dan Auerbach – Shine On Me (2017)
Guitarist and vocalist of The Black Keys, Dan Auerbach, seems to be a true Blues & Rock fan. 'Shine on me' puts you just in the right funk for a chill out session on a sunday!
Royksopp – So Easy (2001)
Norwegian vikings? Well, fortunately Royksopp rather scores in producing hypnotic vocals paired with a funky bass than battling half of Europe. BTW: the Norwegian word 'Röyksopp' denotes the inedible mushroom commonly known as Puffball.
Foster The People – Nevermind (2014)
Bye bye weekend? Nevermind, there will be another sunday soon. Sunday might be over soon but remember: Mondays are not that bad if you like what you do. The indie pop band Foster The People originates in LA and audibly love what they do.
Cub Sport – Chasin (2017)
Australia's best export hit must be young skilled musicians like Cub Sport. While pop band Cub Sport sings about chasin his/her crush, on a summer sunday you better chase the frisbee or the best place to watch the sun set?
Morcheeba – The Sea (1998)
Although 20 years old, downtempo song 'The Sea' has survived its teenage years and still is what it used to be: an ultimate down-to-earth relaxer. "Steal Ice Cream / Worries Vanish" is Morcheeba's recommendation. The UK band got that summer Sunday feeling quite right.
Camila Cabello – Havana (2018)
'Half of my heart is in Havana' Camila Cabello sings. She entered and occupied every charts category. 21-year old Camila was born in Havanna and knows the secret of vivid latin rhythm paired with a trumpet.
Two Feet – Her Life (2016)
Straight from New York Singer Zachary William came to flood European radio stations with his unmistakable heavy pop. Fortunately he brought enough rhythm and base for all of you. 'Her Life' is perfect to cool down after a adventurous weekend.
Bishop Briggs – River (2016)
Scottish Sarah Grace McLaughlin is just 25 years old but already scored the US-charts with her powerful, bossy voice. A classic example of instant fame: her first gig in a bar in 2015 and her latest gig at the Opera House in Toronto in May 2018. You go, girl!
The Velvet Underground – Sunday Morning (1967)
Well… Lou Reed obviously was aware of how the world needed this 'Sunday Morning'.
Image by Georgijevic/iStock