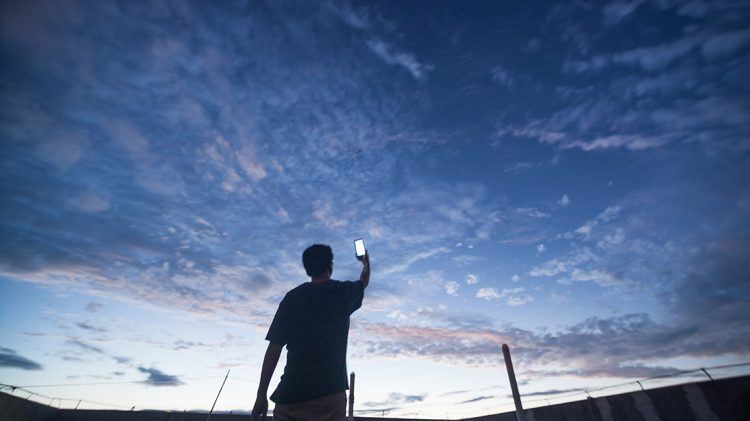 Digital
Detox
A new start for mind, body and soul
May 18, 2017
A new start for mind, body and soul
May 18, 2017
Sure, it's nice to be
digitally connected

with your friends, to catch up with the family when you're far away from home and to be available at all times if your job requires you to be. Sadly, there are some serious side effects of

constantly being online

though.
Digitalisation, the increasing integration of digital devices in our personal and professional lives, is no longer a piece of news. Terms such as "digital native", a label used for those who grew up during the digital transition, get thrown around a lot. And to many, the digital world we live in now sure seems like second nature. But the potential risks of an increasingly digitalised society need to be taken into account also.
In 2016, the Center for Disability and Integration of the University of St. Gallen conducted a study that explores the effects of digitalisation on professionals. According to the study, the continuing digitalisation of the working world is accompanied by a number of challenges, among them having problems going to sleep, headaches, as well as emotional exhaustion. "The study also shows that the risk of a potential burnout expands with the increasing use of technological devices – such as smartphones or laptops – outside of work", explains Prof. Dr. Stephan Alexander Böhm, one of the main authors of the study.
No wonder there are more and more people questioning the need to always be connected. Those looking to catch a break from their technical devices enter "digital detox": a trend where you take a step back from constantly checking your phone and inbox. In a society that seems to move at such a rapid pace, digital detox is gaining more and more momentum. The philosophy of digital detox is not to live without digital devices altogether, it's more about consciously reflecting your "digital behaviour" and learn how to listen to your body and needs.
Ironically, of all things an app is offering help: "White Spots" promises a "journey to the edge of the internet". You can browse the "White Spots" world map in a 360-degree setting to explore places off the grid or "travel from the online to the offline world in Virtual Reality". White Spots are places where you have no phone or internet connection. The collaborative multimedia project by information designer Richard Vijgen, documentary filmmaker Bregtje van der Haak and visual artist Jacqueline Hassink shows the borders of the connected world. For example, from Berlin/Germany to the next white spot it's 168 kilometres."White Spots" also offers intriguing stories about people from all over the world who live without connectivity. Armenian writer Aram Pachyan, for example, threw his phone away and now writes his stories on an oldschool typewriter.
To give in to the urge of occasionally ditching technology Seymour+ in Paris offers a so-called mind spa. A place where – according to Seymour+ – "you can disconnect in order to reconnect with yourself". The 230-square metre space provides a technology-free zone of tranquillity and is supposed to nurture your mental and physical health.
But what if time doesn't allow you to travel beyond the frontiers of the internet or to Paris for that matter? These daily life hacks from "digital therapist" Anitra Eggler might be the answer. Having worked in a managing position where she advised companies concering their digital transformation, Eggler now helps people with "digital detoxing".
#1 Start offline
Break up with reactive rituals. Do not check your phone before getting out of bed and having breakfast.
#2 E-mail opening hours
Try out opening hours for your mails. For example at 11 and 4 o'clock. Required for success: communicate those times openly. Via signature, website, business cards, on letterheads or simply personally.
#3 Silent mode
Switch your phone to silent mode. Not vibration. Silent. Or off. Everything else is self-deception.
A good way to start off the digital detox slowly is with one digital-free day. But keep in mind that even just a single day "off" is not easy and needs to be planned and scheduled. Best you do it on a Saturday or Sunday. After all, emails, calls and easy internet access are crucial to mastering our daily work and private life. Inform your friends and family so there's no need for them to worry and handle important matters beforehand. If one day seems too extreme, why not start with trying a couple of digital-free hours before you go to bed or after you wake up.
Are you eager to unplug and recharge? Travel off the grid and launch a restart for your body, mind and soul. Just make sure to follow one simple rule: forget about "FOMO" – the fear of missing out. Go offline! Otherwise you might be missing the essential.
Image by jxfzsy/iStock