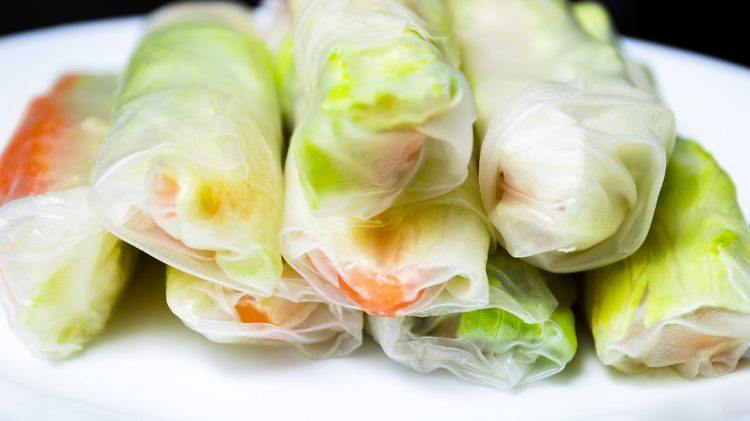 Ready
to roll?
Summer Rolls with Shrimp
April 16, 2017
Summer Rolls with Shrimp
April 16, 2017
These Vietnamese-inspired
summer rolls

are delicious during any season. They are fresh, light and served with a

satisfying peanut sauce

. You can enjoy them family style with everyone at the table or prepare them

as an appetizer or simple lunch

. Keep on rollin'!
WHAT YOU NEED (SERVES 4):
2 tbsp. crunchy natural peanut butter
1 tbsp. soy sauce
½-1 tbsp. of water
1 tsp. honey (or agave syrup)
A couple of dashes of ground ginger
A couple of dashes of chilli powder
100 g rice noodles
16 rice paper wrappers
2 carrots, peeled and sliced into thin sticks
1 large red pepper, sliced into thin sticks
1 cucumber, sliced into thin sticks
8 leaves of green lettuce like romaine or iceberg, chopped
A bunch of fresh coriander
32 cooked shrimp, about 180 g
HOW TO PREPARE:
Start by making the dipping sauce: mix the peanut butter, soy sauce, water, honey, ground ginger and chilli powder until smooth. Set aside for later use.
Prepare the rice noodles by putting them in a large bowl and pour boiling water over them until they are completely covered. Leave them in hot water for about 7 to 10 minutes until they are soft while tossing them every 1 to 2 minutes. Drain well.
Ready to get started? Take the rice paper, dip it in a bowl of hot water and rotate it around for about 15 to 20 seconds until it starts to get soft. Place the softened wrapper on a cutting board and pat it dry a little, making sure it's not too wet yet sticky when you fill it.
Place the carrots, cucumber and red pepper sticks on the bottom third of the wrapper. Add some lettuce, rice noodles and loads of fresh coriander. Place the two shrimp on top of the filling. If you prefer your sauce inside of the roll, this is your moment.
Time to roll: start by lifting up the lower edge of the wrapper over the filling, follow with the two shorter edges and then roll the whole thing up. Serve with the peanut sauce, any other sauce of your liking or just enjoy them plain.