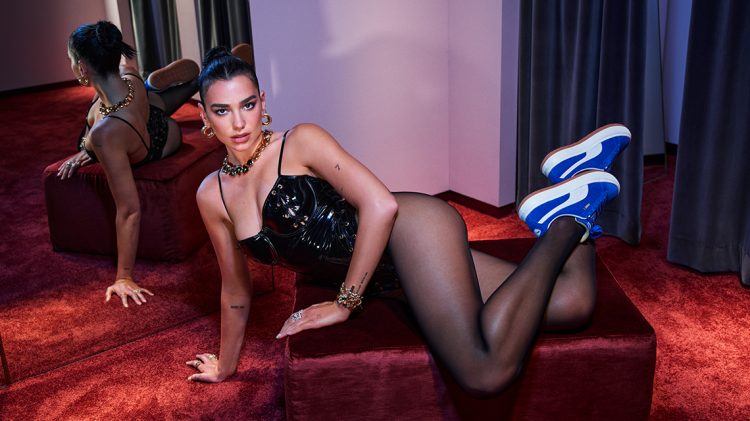 Get the Look
Suede Mayu
is here!
DUA LIPA STUNS IN PUMA'S NEW SUEDE MAYU
April 22, 2021
DUA LIPA STUNS IN PUMA'S NEW SUEDE MAYU
April 22, 2021
Welcome to PUMA´s

new Suede Mayu

. 

Our new silhouette

transforms the 

iconic

 Suede 

by playing with

 

exaggerated 

proportions

, 

a modern lens

,

 and 

playful colors.

Dua

Lipa is wearing the

Suede

Mayu

in a

fashion-forward ensemble in her newest PUMA campaign, shot

by legendary photographer Mario

Sorrenti

.
Suede Mayu is a chic take on a classic, with over-the-top proportions and a wrapped platform midsole. It's cool, comfy, and inherently versatile, making it the perfect everyday shoe. As the face of the new silhouette, Dua plays dress up with the new Suede Mayu, captured by Mario Sorrenti in a stylish dressing room for this campaign. 
I love a platform that works across so many looks, day to nigh. The Suede Mayu is so versatile, it's the perfect everyday shoe!
While keeping the original upper as a cue from the archive design of the Suede, the tooling has been completely re-designed. Its proportions are blown up to achieve a more edgy and contemporary look, pushing forward the original court DNA of the shoe. The style builds on the growing platform trend with a bold tooling and an elevated look, while keeping it lightweight and comfy.
Lois Ash (PUMA Product Line Manager Sportstyle Footwear) and Neli Ernst (Senior Footwear Designer Sportstyle at PUMA) about the Suede Mayu:
Why is it called Suede Mayu?
Lois: We took a lot of inspiration from Japanese streetwear for this style so we wanted to bring that to life through the name and as this is almost like the re-birth of the Suede we went for Mayu which is Japanese for Cocoon, symbolizing the re-birth of one of our icons.
What was the main inspiration behind creating Suede Mayu?
Neli: The idea was that we always have our icon, the Suede, and we wanted to tweak it and modernize it to bring it into a more fashion angle. I think there's a general trend in fashion on mis-proportions and making designs look a little bit off. The Suede Mayu was a way to reinterpret our classic style, by playing with proportions and keeping the general look of the Suede.
The upper is basically how the original is, but the tooling is more blown up and more extreme, serving the more modern, younger consumer with more of a fashion angle. It also came from the platform trend, and how we could reinterpret the trend in a more modern way. Instead of just scaling up the size of the tooling, it's a more general, blown up look.
In terms of the overall colors and materials, was there any particular inspiration?
Neli: It came mainly from the 70s, so having some standout, playful colors next to some regular neutrals, like black and white. The suede material is quite vintage with a retro feel. Then we added a nylon tongue and the open seem where you can see the foam, which is also more retro inspired.
Lois: We quite often have the normal suede in this blue and this red that we like. It's a bit more 70s, a bit brighter, and just kind of makes it stand out a bit more. It's a bit different, but it's not too much, so it makes a statement without being too extreme. When you imagine wearing it with wide pants or something, where you just see this flash of blue, then it's quite cool.