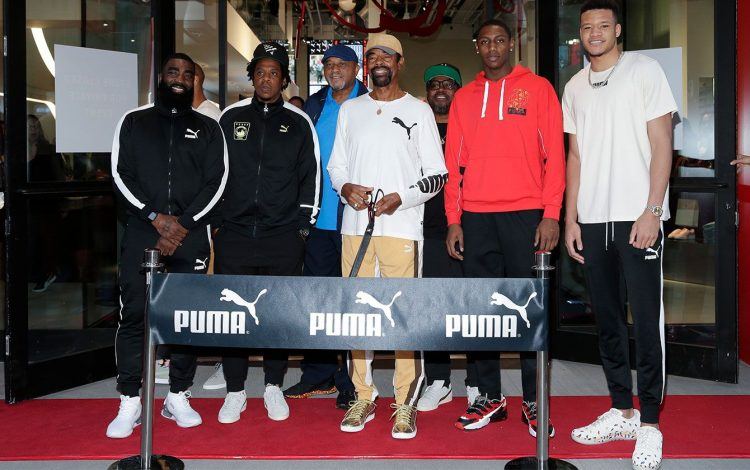 The Grand Opening
Star-Studded Opening of PUMA's new Flagship Store on Fifth Avenue in NYC
September 2, 2019
Star-Studded Opening of PUMA's new Flagship Store on Fifth Avenue in NYC
September 2, 2019
When PUMA ambassadors Dreezy and Megan Thee Stallion have their own fan girl moments, something huge is going on:
Celebrities and athletes flocked to PUMA's first-ever North American Flagship Store "Grand Opening"

in New York City.
While Basketball and Fashion icon Walt "Clyde" Frazier cut the ribbon to open the 18,000 square feet (about 1,700 square meters) store in Manhattan, he was joined by none other than football legend Thierry Henry, basketball coach and former professional player God Shammgod, entertainment icon and PUMA Basketball Creative Director Jay-Z, PUMA legend Tommie Smith, Emory Jones and PUMA Hoops and New York Knicks Stars R.J. Barrettand Kevin Knox.
The Grand Opening of our New York Flagship Store was an amazing event and a crucial moment for the PUMA brand. The Store is set in an unbelievable location in Manhattan, has a fantastic storefront and will be the perfect place to communicate with our consumers.
The list of "special guests" did not stop with Jay-Z, Walt "Clyde" Frazier or Tommie Smith. PUMA legend  Boris Becker stopped by while Usain Bolt showed his running skills in the Hustle Zone, that featured fun activities such as shadowboxing and skills test.
Walt "Clyde" Frazier, RJ Barrett and Thierry Henry were among the firsts to try out the PUMA x YOU customization area in the store that comes, among others, with 3D-knitting and laser printing to create personalized PUMA footwear, apparel and accessories.
And because a Grand Opening deserves a Grand Closing, Rappers Megan Thee Stallion and Yo Gotti performed live in the unique setting of PUMA's state-of-the-art store.
Picture Credits: johnnyfoto/ PUMA