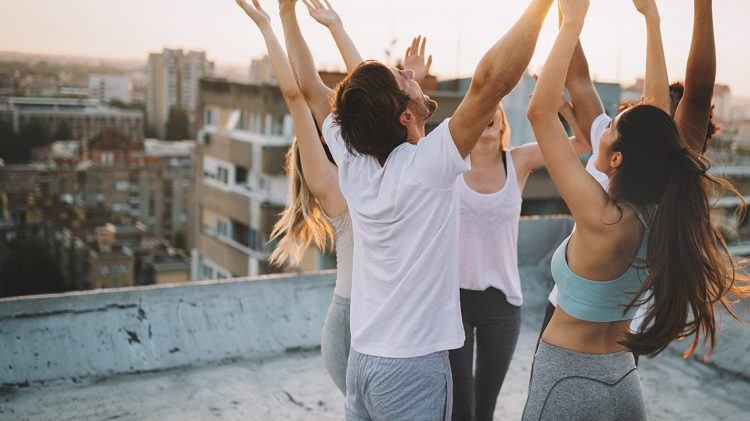 Say 'No' to weight loss
& 'Yes' to a healthy body
A subtle shift in perspective
March 10, 2020
A subtle shift in perspective
March 10, 2020
Committing to your health—to eating a nutritious diet and moving your body on a regular basis—is a wonderful thing. But sometimes we can fall into the trap of becoming so focused on a specific weight goal or another more superficial aspect of what we think it means to be 'fit'
that we end up losing sight of our original intentions of becoming healthier and happier in our bodies.
How can we shift our perspective and
stop fixating on the number

displayed by the scale, instead concentrating on

overall health and wellness

?
Good health starts with a good relationship to your body
Many of us have a critical attitude towards ourselves which translates into harsh diets and unsustainably intense exercise regimes. Instead, when attempting to live a healthier lifestyle, we need to adopt an attitude of compassion.
Fit looks different for different bodies; in order to begin developing yourself and improving your overall fitness, you must first accept yourself as you are.  This radial acceptance forms a foundation upon which you can begin to strengthen and train your body with a kinder attitude, which will produce much better results in the long run.
Establish Health Goals
Sometimes it can be helpful to ditch the scale and create a list or vision board of personal goals that you have for your health journey. Brainstorm by asking yourself questions like: how do I want to feel in my body? What would I like to be able to physically accomplish?
Think about setting SMART health goals— as in specific, measurable, achievable, realistic and time-related.
Some things totally COUNTERPRDOUCTIVE to achieving your fitness goals
Skipping meals
Yo-yo diets
Shaming yourself for overeating
Negative selft-alk
Inconsistent-but-intense workouts
Some things totally PRODUCTIVE to achieving your fitness goal
Finding exercise buddies to help motivate you to stay consistent with a workout schedule
Finding a physical activity that is fun for you
Changing up your routine and trying different types of sports and exercises
Eating a diverse array of fruits and vegetables
Food is fuel
Rather than seeing food only in terms of calories, try to understand that food is the fuel for your body. Adhering to a strict dichotomy of good vs. bad food can cause you to be overly rigid with your diet. Instead try feeding yourself nutrient-dense whole foods on a regular basis—you will feel better in your skin and perform better in the gym because this is proper sustenance and provides your body the energy it needs to function.
Munch on a variety of different kinds of foods and try to listen to your body: when it is full, stop eating and when it is hungry, feed it. This may seem over-simplified but that's because most of us have a lot of stories and emotional attachments surrounding food that make our eating habits less than beneficial for us. By focusing on how the food you put into your mouth makes your body feel, you can begin to build a healthier approach to your diet.
To wrap it up
Making small healthy changes to your lifestyle is key for long-term sustainable fitness. By focusing your attention on what a healthy body means to you and what exactly healthy feels like, you can begin to shift away from obsessing over the 'perfect weight'.
This isn't to say that – if you have health problems that are associated with your weight – that you shouldn't make changes to manage that. What we rather want to emphasize is that focusing solely on numbers and ignoring other aspects of health can be detrimental.
We only have one body. Let's treat it right.