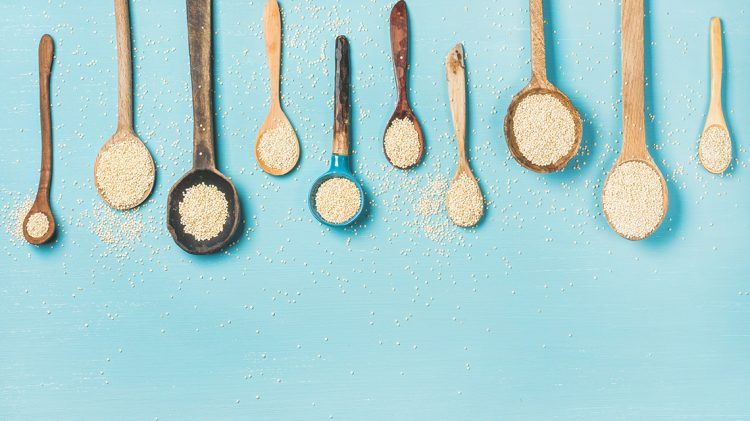 Not only
for Sundays
Try these Quinoa Pancakes
April 7, 2017
Try these Quinoa Pancakes
April 7, 2017
Start your day right! These healthy and delicious
quinoa protein pancakes

are the ultimate breakfast treat. They keep you full for long and provide a

nutritious kick-off

for the day.
WHAT YOU NEED (SERVES 4):
245 g low-fat yoghurt
3 tbsp. maple syrup
1 tsp. pure vanilla extract
1 tbsp. coconut oil (plus more for the pan)
220 g spelt flour
1 tsp. cinnamon
1 tsp. baking powder
½ tsp. baking soda
Dash of salt
170 g quinoa, thoroughly washed and cooked
Optional: toasted nuts, fresh fruit such as berries or banana
HOW TO PREPARE:
Whisk together the egg, yoghurt, maple syrup, vanilla and (melted) coconut oil.
In a separate bowl, combine the spelt flour, cinnamon, baking powder, baking soda and salt.
Pour the yoghurt mixture into the flour mixture and stir until well combined. Gently fold in the cooked quinoa.
Melt some more coconut oil in a pan over medium high heat, then drop a spoonful of batter into the pan and let it cook for approximately one to two minutes on each side. Flip once you see bubbles forming. The pancakes should be lightly browned from both sides. Serve them with toasted nuts, fresh berries or sliced banana and finish with some more maple syrup.
Nutritional Value per Serving: 
308 calories, 7 g protein, 47 g carbohydrates, 8 g fat