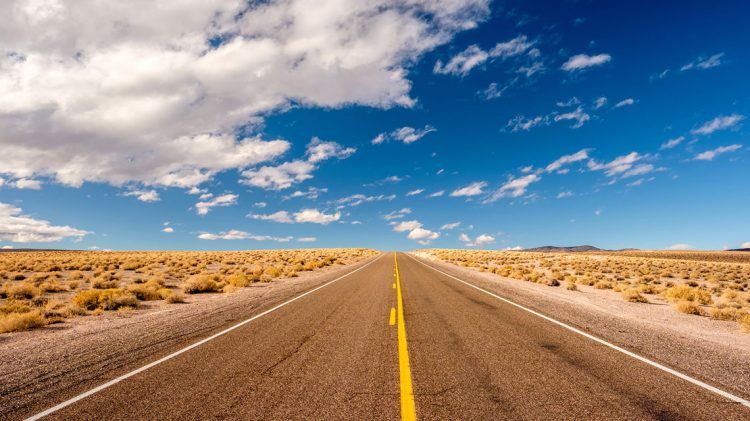 Road Trip
Tunes
Time to get away
July 7, 2017
Time to get away
July 7, 2017
What better way to celebrate the arrival of summer than with a
spontaneous, adventurous road trip?

While we can provide the

perfect soundtrack

, you need to do the planning yourself. So let's get to it and remember:

Vacation is a state of mind.

So put on our playlist and escape – even if it's just mentally. No road rage allowed.
Livin' On A Prayer (1986) – Bon Jovi
What would a road trip playlist be without classic 80s Rock? Naturally, Bon Jovi had to make our list. Now everybody sing along (we know you want to): "Ohhh, we're half way there…".
Ride Wit Me (2000) – Nelly feat. St. Lunatics
Our selection is getting quite literal quite fast – please don't judge. "Rid Wit Me" is a feel-good Hip hop jam that is best enjoyed while driving in a convertible with your friends.
American Teen (2017) – Khalid 
At only 19 years old, R&B artist Khalid released his debut album. The first track "American Teen" perfectly captures the essence of adolescence when anything seems possible.
Don't Stop Believin' (1981) – Journey 
Back at it with the 80s Rock! "Don't Stop Believin'" is a pop culture classic and if you find yourself on a road trip, you might just listen to a band called Journey.
Hold Back The River (2014) – James Bay
British singer-songwriter James Bay packs an emotional punch with "Hold Back The River". Still, Bay's folk rock is ideal road trip material.
Ms. Jackson (2000) – OutKast 
"Ms. Jackson" is iconic in every way. In case you didn't know: The story behind the song was inspired by Andre 3000's relationship with Erykah Badu and her mother.
Go Your Own Way (1977) – Fleetwood Mac 
"Go Your Own Way" is about the painful ending of a relationship. So in case you are in need of a post break-up trip to work through your feelings, this one's for you.
Rolling in the Deep (2011) – Adele 
Another break-up anthem from the queen of all break-up anthems. Were you looking for that one song to sing along to at the top of your lungs? Enter "Rolling in the Deep" (that chorus!).
California (2002) – Phantom Planet
Travelling along California's Pacific Coast Highway is on a lot of people's bucket lists. Here's a song in joyful anticipation of your next trip (even if it's not California).
Bohemian Rhapsody (1975) – Queen
The almost six-minute long song is like a rollercoaster of feelings with Freddie Mercury at the top of his game. Tip: Put "Bohemian Rhapsody" on when the drive gets tiresome and you need a boost of energy.
Paper Planes (2007) – M.I.A. 
Hailed as one of the best songs of its decade, "Paper Planes" introduced M.I.A. to a larger audience. In true M.I.A. fashion, she effortlessly combines catchy tunes and political messages.
Drive (2015) – Halsey 
"Drive" starts with rattling keys and the sound of squealing tyres. Halsey takes us with her on a car ride she's taking alongside her love interest. The lyrics exude yearning and excitement.
Junebug (2009) – Robert Francis
Californian musician Robert Francis' indie folk makes you want to sit around a bonfire talking about anything and everything. On "Junebug", he reminisces about a past love.
Drops of Jupiter (2001) – Train
The Grammy Award-winning song was inspired by the death of lead singer Patrick Monahan's mother. Even with a heavy back story, "Drops of Jupiter" conveys a sense of freedom and easiness.
Shut Up And Drive (2007) – Rihanna
Last but not least, another very literal interpretation of the road trip theme. "Shut Up And Drive" bubbles over with confidence, fun and lyrical innuendos – Rihanna at her best.
Image by haveseen/Fotolia