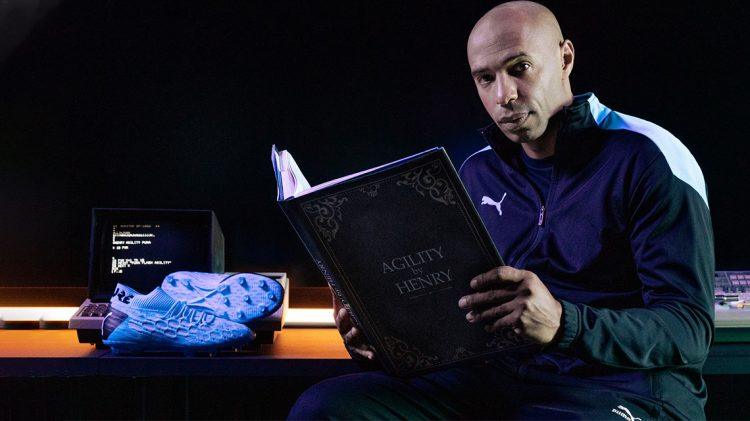 Football Real Talk
with Henry
PUMA Football managed to virtually bring together three historic footballers
April 27, 2020
PUMA Football managed to virtually bring together three historic footballers
April 27, 2020
As part of the
#StrongerTogether series

, PUMA Football recently went live on its Instagram channel to host three of

football's biggest personalities

for a candid talk about their lives on and off the pitch. In case you missed the talk, we collected some

highlights

for you.
Kicking off part two of Football Real Talk with Henry, Mario Balotelli joined Thierry to discuss his career highlights and give insights into his professional development. Remembering the early days of his career, Mario admits that he has always been bad at tactics, but his success came from playing with his instincts.
When Mario was "young and crazy", as a player, he profited most from Italian football manager Roberto Mancini and later from Swiss manager Lucien Favre, while he was playing for French Ligue 1 club Nice. According to the Italian striker, playing in the French league is not easy, it's physically demanding and you're one of many on the pitch. He believes England is the best country for a footballer to live in and it has the best league to play in.
Football is amazing there, the fans are amazing, the way they speak about football is amazing.
Being asked what's essential for a striker to be successful, Mario acknowledged a great striker needs to have technique, speed and most importantly, speed of mind, which is not easy to learn – you either have it or you don't.
Afterwards, Thierry was joined by the incomparable Kevin Prince Boateng for an open and honest conversation about his career and the motivation behind some of the biggest decisions he has made in football.
The question everybody wants to know the answer to is why he chose to represent Ghana over Germany. Being young and mixed-race Kevin didn't really know where he belonged, he was trying to find himself. Then football came, which made him want to proudly represent Germany, leading to him playing for Germany´s national youth team. As he got older and started to speak his mind, he realised that his character wouldn't fit the German national team, resulting in him choosing to play for Ghana at senior level.
Playing for Ghana is one of the best decisions I have made in my career! Because to go home, see your roots and a different culture, having the chance to play two World Cups gave me a lot.
Over the course of his career, Prince Boateng has represented numerous top-class football clubs, but found his character and conditioning began to come into question. The midfielder arrived at Spanish club UD Las Palmas without any expectations, just wanting to play football and enjoy the game again. Then at the age of 32, he returned to the big stage at Barça, which truly invigorated him: "It was amazing to sign for Barcelona at 32, to be on the big stage one more time again, just to be there was crazy."
Keep an eye on @puma and @pumafootball for more great insights into the lives and careers of our PUMA athletes and ambassadors.