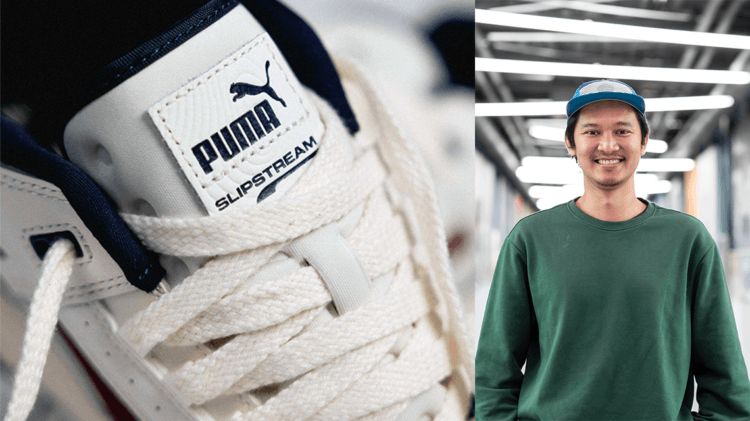 Meet the designer behind
the new SLIPSTREAM XTREME
Raka Maulid talks about his design journey for the newest Slipstream release
October 11, 2023
Raka Maulid talks about his design journey for the newest Slipstream release
October 11, 2023
With winter just around the corner, we are shifting our focus to footwear for the cold season. One who had his eyes and hands on such a winter style for months already is our Senior Footwear Designer Raka Maulid, the creative brain behind the new SLIPSTREAM XTREME. CATch Up had the chance to chat with Raka and learn more about his inspiration and the process behind his desing. Read on to get to know Raka!
You designed the SLIPSTREAM XTREME Sneaker. Can you tell us something about the process?
Raka: Sure, this shoe was briefed, in 2021 as a bulkier more beefed-up version of the SLIPSTREAM. The briefing came from the product line management (PLM), and it asked for a winterized version, a winter friendly version so to say, which is a little bit more outdoorsy, a little bit more rugged than the original version. The focus also was on keeping the same aesthetic overall.
Who else was involved in the project?
Raka: The project was led by Francesco and Andy Hang and Stanley Wu from the factory team in Ho Chi Min. But basically, it's a whole team process. And internally as a designer we work closely with design team members as well. So, usually, before we go to the design review, we also have internal meetings with the designers. In these meetings, we will talk about the design, what we need to do or if something is missing or needs to be fixed. All in all, it's a team effort but the two or three people that I work with closest are the PLM and the development team from Vietnam.
You did an evolution of an already existing shoe. Is it harder than designing a completely new shoe from scratch?
Raka: It depends. It's a different type of complexity. So, if you start something from scratch, there are a lot of variables that need to be considered like "How will the new style fit into the range" or, "We want to make something completely different but need to make sure consumers will still like it". But if the shoe is sitting next to its older brother, it needs to have certain similarities but yet, you cannot go too similar, but also not too far away either. So it's a complex answer, but both have like different challenges. Especially, for this specific style we really had to consider the materials and the ground contact, because it's supposed to be a winter issue and it needs to be rugged, and on top of that it needs to be slightly bulky. There are  a lot of things to consider not only aesthetics but also how to increase the comfort while sticking to the brief. I must say, that there is quite a high level of complexity.
And which one do you like more, or: is it more challenging for you to come up with a new design or work on an existing one?
Raka: For me, it's easier to come up with a new design. I guess it has its own challenges as well. But like I said earlier, working on an existing franchise is challenging just because the consumer already knows that there's this SLIPSTREAM shoe and then you need to make a new version, but it needs to be different but not too different. It needs to be similar but not too similar. The most challenging aspect for me is when you already have an established style, and you need to create something new, but not too different.
So how much of the former SLIPSTREAM still lives in your version?
Raka: I think silhouette wise, it still speaks SLIPSTREAM. The top line of the tooling has remained relatively consistent. The tooling only has a more rugged appearance. The top line has been refined, featuring slightly cleaner and more angular elements. When we come to the paneling on the upper, I would say it looks quite similar. However, instead of a single-piece mudguard toe overlay, I divided this section to offer two different colour blocking options. Additionally, I added some hiking inspired elements like the metal eyelets. These adjustments were done to achieve the winterized and outdoor look and feel of the shoe. If you look on the heel, I made an effort to maintain consistency by incorporating the debossed lines. With the elements of the A-Frame on the side and the mudguard overlays, the consumer can still recognise the shoe. With the just mentioned changes, you see the difficulty in differentiating the shoe from the previous one, without moving too far away from the existing one.
Who is the consumer you designed the shoe for?
Raka: We crafted this shoe with streetwear enthusiasts in mind – individuals who appreciate basketball-inspired style and want a versatile option for all seasons. It offers style, technical features without sacrificing the SLIPSTREAM silhouette since it doesn't look overly technical, like a winter boot, even though it has properties, like waterproof materials, very sturdy laces, very rugged looks. And it's slip proof, since the rubber is specifically for that kind of shoe, where we need to have better ground contact. So yeah, it's for that type of consumer who wants to have something functional, but also stylish at the same time.
How do you make sure you hit the consumer and the market needs with your design?
Raka: I think we have a lot of conversations with the PLMS to make sure the brief is clear. From the beginning this shoe was supposed to cater to this type of consumer and then we had a more detailed conversation of what type of outfit that consumer would be wearing etc. Also, marketing has their target groups and personas to describe this type of consumer. Apart from that, we designers take trips – inspiration trips so to say to museums or art exhibitions and we see the competitors and then we also go to the stores and ask people who run the stores and who are actually talking to the consumer directly what that type of consumers want. And so, you gain an understanding about the type of consumer that you're working with.
When you start designing a shoe, how does your personal process look like?
Raka: Well, it depends. Roughly it's pretty much similar every time but it also depends on the project. When you see a brief and immediately have this clear idea, you don't need to go through all the research because you have a clear vision in your head. But I think the most usual process that I do is from the briefing to the sketch ideation phase and then we talk to the design team, to define in which direction we want to go. And then we present it to the PLMS. And after that, we have a sign off, and then go to techpacks and then receive the samples, and then we go to Vietnam for the development trip. And then, yeah, like 18 months later we have a full-on product. But my process, creative wise, is always like pretty much similar.
You already mentioned your trend inspiration trips. Where else do you usually draw your inspiration from when you design?
Raka:I guess, because we are focusing our designs so much on the consumer, we also draw inspiration from that. When you think what type of cars they like, you know, what type of colors they see every day, what type of outfit did they go for, what type of fashion reference that they look up to? So, for me, inspiration always comes from the consumer, I try to be objective, but sometimes, you know, there are some bits of your individuality as a designer that also sinks in, whether you like it or not.
What are your main influences when you design a new shoe?
Um, I guess products. So, when I see the consumer I try to imagine, what do they like? If their outfit is very Y2K or baggy or inspired by the 2000's, then I will look for a product from the 2000 era. Like the Tamagotchi or like the iMac and I try to link the consumer and the products and let that inspire my designs. It also depends on what we're aiming for. If I'm doing more technical stuff, for running for example, I would look for something a little bit more technical, something inspired by architecture, or a parametric design. I think that's something that influences me a lot. But because I'm a product designer, like I said, I will investigate products and that product will then inspire the design that I'm working with.
Are there any designers you're looking up to?
Dieter Rams. Do you know the movie? When I watched his movie and I was looking further into him, what he does, I think he inspired like a generation of Apple products. His designs are so very clean, very calm. It's kind of like everything needs to have a function. He has this like Ten Commandments on design and I think growing up, this is like the holy bible of designing stuff. His ethos, in terms of approaching a design, it can easily be applicable to any design. The process doesn't matter if it's a home appliance, electronics, or footwear. But yeah, of course, since we're working, with a sports and fashion approach, it needs to be adjusted to answer the consumer needs. But yeah, Dieter Rams .
How much of yourself is incorporated within your shoe designs?
Raka: I try to be as objective as possible, but yeah, your characteristic always comes through with the design. So, in my early days in PUMA, when we had an open brief, I would put a lot of my own personality into my design, just because I feel like I'm also that type of PUMA consumer as well in my head. But now I think I'm getting mature and also I try to be as objective as possible. But unintentionally a designer's personality inevitably leaves its mark. You might notice traits like an affinity for technical elements and an inclination towards minimalism in my designs – it will always show a little bit.
What makes this shoe a special one?
Raka: What I realize, just now, is that even though I thought it was not a special shoe, it makes me happy every time to see the shoes come to life. When you were working on the project for quite some time, the shoe becomes dull for your eyes, like you know it's just another shoe. But when I see them in store, worn by a real person and the person is like they were described in the brief, I see: 'That's a really good shoe' and realize 'wow I actually designed that'! The realization and pride still hits me after all these years, it still makes me happy. It is the best part of my job really. And even though I have had projects I am not proud of, this one is a really nice shoe and I am really proud of it.
Thank you so much for your insights and time, Raka!