Get the Look:
PUMA Slipstream
Revival of an '80s Court Classic
June 30, 2022
Revival of an '80s Court Classic
June 30, 2022
Our next-generation Slipstream sneaker is
bringing that '80s sportstyle to the doorstep of the modern-day.

A court classic, the new PUMA Slipstream has been reimaged without compromising its performance roots. Running along with this '80s revival

we styled a retro streetwear look, balancing both vintage and contemporary essentials.
The Shoes
35 years after its initial release, PUMA's Slipstream is making an epic comeback. Returning with an abundance of colorways and makeups, this simple sneaker has been revived for the wardrobe of today. Combining a distinct basketball DNA with an undeniably clean and modern look, the resulting silhouette feels fresh and current thanks to a sculpted midsole, updated overlay panels, and a remodeled collar construction.
The whole Outfit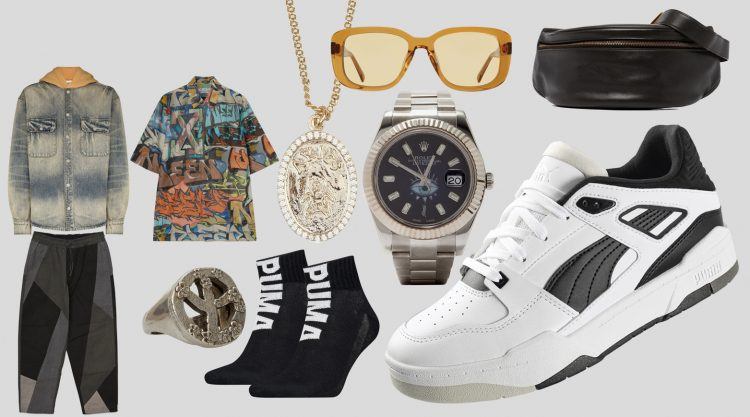 The Outfit
The '80s were a decade composed of fashion trends that people love to hate, but from the retrospective it is definitely possible to pick and choose favourites, gathering the good and leaving the rather terrible styles behind (hello teased and permed hair). Defined by very unique and distinctive fads, we've woven some of these iconic elements into the outfit of the day.
First up is a fresh take on harem pants, originally popularized in the Western world in the '80s thanks to MC Hammer. These drop crotch, slightly tapered trousers are right on point, and the asymmetrical patchwork designs adds another deliciously vintage layer.  On top comes an ostentatious statement shirt with a bold graffiti print that conveys a streetwear vibe. Finally a distressed acid wash overshirt fits right in with the '80s denim craze while still feeling contemporary with a sporty hood in a soft orange hue that matches other tones in the look.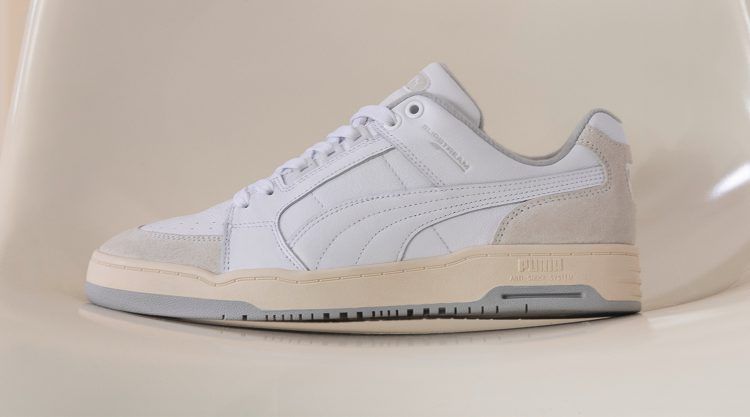 The Accessories
Extra adornments complete this rather lowkey (though still bold) ensemble. In the '80s most fashionable sunglasses had giant frames and sported colored lenses, so this pair of oversized biodegradable shades feel very on point, giving you a subtly sepia steeped worldview like you've stepped back in time or dove into the frame of an old photograph.
Then comes a belg bag ─  our evergreen favourite and (seemingly) ever–fashionable accessory ─ this time in an indulgent black leather with gold tone hardware. A characteristic pair of PUMA crew socks grounds back into the sportstyle feels, while a glittering gold pendant necklace, peace ring and quirky wrist watch with a lazy evil-eye motif finish off the whole look.
The '80s were a unique time in terms of fashion, with trends that are often seen as being 'too much' or 'too loud'. Yet many staple items from this decade will never leave the modern wardrobe.
Traces of these trends can be reworked and made anew ─ as PUMA's new-generation Slipstream sneaker impeccably demonstrates.

Embracing the loud, bright and bold themes and combining them with streetwear undertones, you have a court classic representing the next step in stylistic evolution.