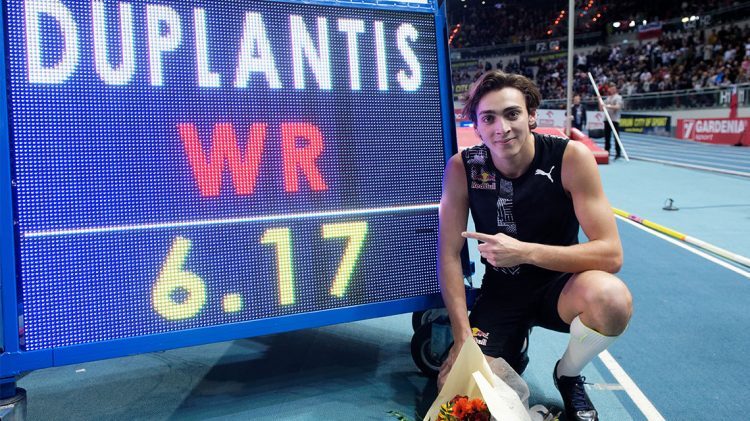 No "high
enough"
for Mondo
PUMA athlete breaks world Pole Vault record at Poland's Copernicus Cup
February 10, 2020
PUMA athlete breaks world Pole Vault record at Poland's Copernicus Cup
February 10, 2020
Over the weekend, the world watched the
Orlen Copernicus Cup

with baited breath, with all eyes on the young, talented PUMA athlete Armand "Mondo" Duplantis. And the American-born Swedish jumper

did not disappoint

, breaking the world pole vault record with a

6.17 meter clearance

.
It happened halfway through the World Athletics Indoor Tour, on the fourth of seven legs of the 2020 event. Mondo shocked the world with his unprecedented performance, breaking Renaud Lavillenie's previous world record of an already impressive 6.16 meters. In a post-event interview on Saturday, Mondo's commented on the win, saying:
"I've wanted to break the world record since I was three years old. It hasn't really sunk in yet. I'm on cloud nine right now. There's no secret to what I do; I just put in a lot of hard work. I can't thank my parents enough for helping me to get to where I'm at now. All the support I had from everybody is the reason why I did this."
The twenty-year old, who started pole vaulting in the family's Louisiana backyard at the age of four under the watchful eye of his father, coach, and former pole vaulter Greg Duplantis, had cleared bars of 5.52 meters, 5.72 meters, 5.92 meters, and 6.01 meters before moving up to the world-record height of 6.17 meters over the weekend.
I don't know exactly how high I want to jump in my career, but I definitely want to be the highest jumper there's ever been, for sure.
The sky's the limit for Mondo. With a little imagination, we look ahead to what he is yet to accomplish in his career. Though he has already pocketed the highest vault in world history, with 2020 as an Olympic year, the opportunities are endless for the young Swede. And we love his Forever Faster spirit.