Rugby at
the highest
level 🏉
10 Questions for PUMA Athlete & Australian Rugby League Player Tiana Penitani
October 21, 2022
10 Questions for PUMA Athlete & Australian Rugby League Player Tiana Penitani
October 21, 2022
She plays rugby at the highest level and is one of the faces of our new

PUMA X Modibodi

Activewear campaign. We are talking about the Australian PUMA athlete Tiana Penitani. "CATch up" had the opportunity to ask Tiana 10 questions – find out about the challenges she faced in a (still) male-dominated sport, why periods are still stigmatised and how important it is to also educate coaches to better understand the menstrual cycle and hormones of athletes.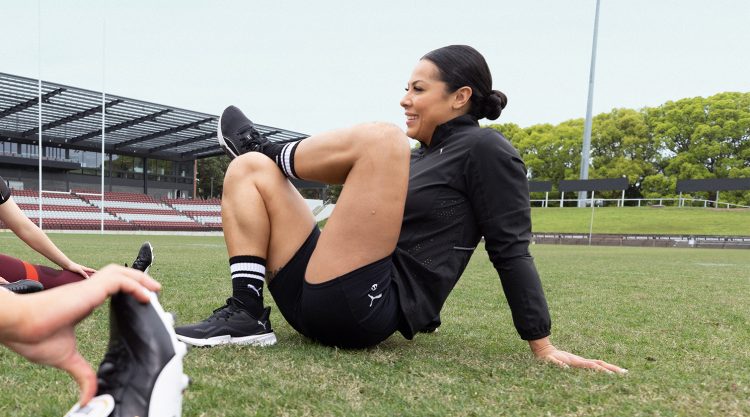 How long have you been playing Rugby for?
Tiana: I started playing rugby league when I was ten. I then had to stop playing as we were no longer allowed to play in the boys competition. I started rugby sevens when I was sixteen and then changed back to rugby league in 2019. So as an adult I've been playing for nine years.
What were some of the challenges faced growing up trying to get into the world of professional rugby?
Tiana: The biggest challenge looking back was not having a genuine pathway into the elite level. We as female athletes had to stop playing contact sports from twelve years old as we played in the boys competitions and there was no girls competition which pushed me to pursue other sports. I found my way back when I was older, through the first ever schoolgirls pathway.
As an athlete training at the highest levels in sport, could you share your perspective on the conversation around periods in sport that you feel should be taking place?
Tiana: I know there are increasing interests and studies around periods and sport. I feel as though the conversations about managing your period and using it to your advantage as an athlete needs to be introduced to our young athletes, to not only get rid of the stigma that periods are inhibiting – but also educate our young girls to help them be their best.
Do you feel it would be beneficial for coaches and teachers to help train girls/women with a better understanding of menstrual cycles and hormones so as to better impact their performance?
Tiana: Yes, I know it would be beneficial. Even training our coaches and teachers in this space so they can understand in greater depth and use.
Why do you think periods are stigmatised or seen as shameful in the world of sports?
Tiana: I just think they're misunderstood and seen as a burden to people, therefore shameful in sport because there isn't enough education around why they can be beneficial to athletes.
How important is the sustainability aspect of the modibodi products for you?
Tiana: Sustaibility is super important, we need to constantly strive to find better ways to look after our planet and by using Modibodi products we can contribute to minimising the use of disposable sanitary items which results in a better impact on the environment. It's a win win!!
Have you ever felt uncomfortable walking on to the pitch and playing on your period? 
Tiana: Yes, wearing pads and tampons can be uncomfortable if they are not in the right position which can cause you to stress about it.
Did you ever experience a time when your uniform made you feel uncomfortable to play on your period?
Tiana: Yes, especially in lighter coloured uniforms.
What difference does it make to your mental and physical game having activewear that enables you to play on your period?
Tiana: It allows you to focus solely on competing or training and not what you look like or how you feel.
What would you say to 12 year old Tiana now if you could?
Tiana: Be confident in yourself, you are strong, capable and loved. Stay true to who you are and what you believe in. All of the challenges you will face on your journey will shape you and build character, so don't be afraid to take risks and challenge yourself!