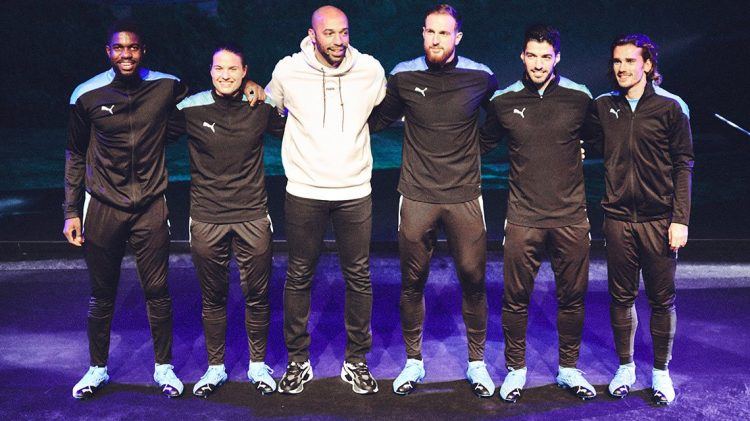 Strikers, ready to
devastate defenses?
PUMA unveils the FUTURE Flash – featuring a player-inspired design
November 22, 2019
PUMA unveils the FUTURE Flash – featuring a player-inspired design
November 22, 2019
Designers at PUMA ask themselves, "How can we
help football players

to be more reactive and unpredictable, making the most of every game?"
The obvious answer came in the form of another question: Who better than actual players to tackle these issues?
With former football player and PUMA ambassador Thierry Henry guiding the way, PUMA reached out to players like Antoine Griezmann, Luis Suárez, Samuel Umtiti, Dzsenifer Marozsán, and Jan Oblak.
When was the FUTURE Flash launched?
Following the official announcement on November 17th a launch event was held in Barcelona, where the core team of star football athletes were welcomed onto the stage, revealing key insights into their dynamic movements.
PUMA hosted the event in Barcelona, inviting worldwide media, key retailers and tier one influencers to take part and learn more about the exciting new FUTURE Flash, with PUMA innovation once again stealing the show.
The players also competed against each other on the interactive pitch, where they were able to showcase their agility to the attendees. This smartly pooled is precisely what was used to promote the most advanced FUTURE FLASH boot to-date, ultimately paving the way for better mobility for the modern player.
Nowadays, defenders are more athletic and tactical, pushing strikers to adapt. The result is a new breed of players who are more intelligent and incisive, in the sense that they make better use of space and attack from new angles.
What sets the boot apart?
The engineered honeycomb design is flexible and adapts with the natural movement of the foot, quickly reacting to our players' movements on the pitch. Similar to PUMA's FUTURE boots, the Flash comes with the adaptable NETFIT technology that allows infinite lacing options. It sits on a thinner, lighter and more flexible fully knitted upper, which enhances fit and stability. Key strike zones, such as the low or full instep, are molded with an enhanced GripControl Pro layer, to improve ball control in the key impact zones.
(We're working our connections to get you a video of the event, so check back soon!)
Ready to devastate defenses? The PUMA FUTURE Flash is available in PUMA Stores, PUMA.com and leading football retailers worldwide.