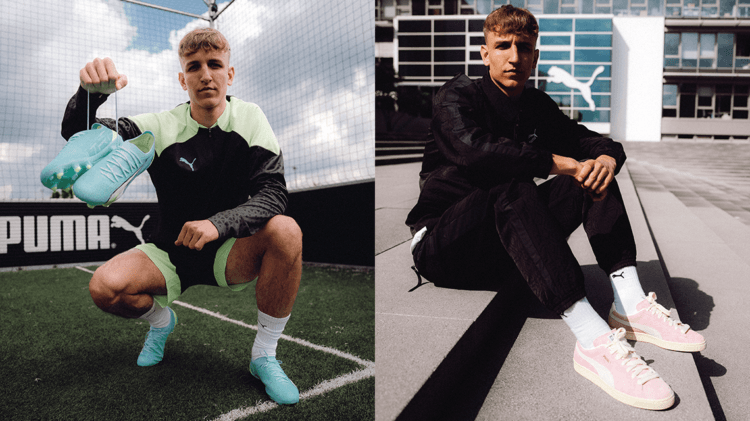 Welcome to the FAM, Nelly!
PUMA signs aspiring German football talent Nelson Weiper
May 22, 2023
PUMA signs aspiring German football talent Nelson Weiper
May 22, 2023
The young striker
Nelson Weiper

is considered

Mainz 05's greatest offensive talent

at the moment and many observers predict a very promising future for him on an international level 🔥. He is not only Mainz's youngest ever goal scorer in the Bundesliga, but also

PUMAs newest addition to the Fam!

CATch up had the chance to chat with Nelson – aka Nelly – on his

goals for this season with Mainz, his everyday life as a new pro footballer

and

his aspirations for the future

.
Get to know Nelly in FOREVER.FASTER. style:
Do you prefer to train in winter or summer? 
Nelson: Summer!
Sweet or salty?
Nelson: Sweet.
Your favourite snack?
Nelson: Kinder Bueno.
Who is your favourite artist?
Nelson: At the moment, Luciano.
What do you do in your free time besides playing football?
Nelson: I'm actually at home most of the time, playing video games or just going out to eat with friends.
What is your favourite PUMA product?
Nelson: The T7 suits!
And who is your biggest role model?
Nelson: Erling Haaland!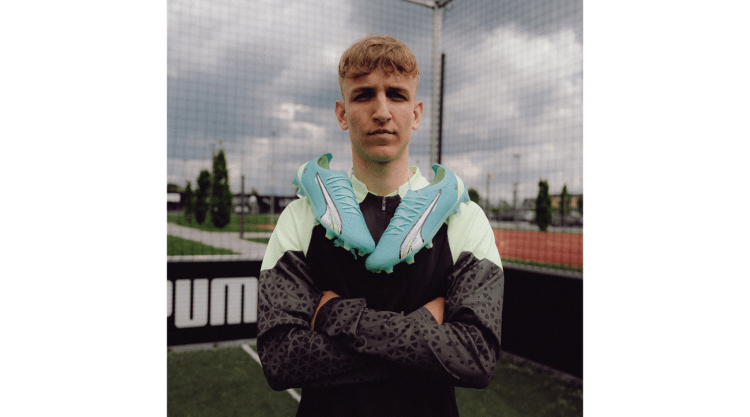 Please tell us how you got into playing football.
Nelson: I think through my brother, so I was told, when I was very little. He went to play soccer, and I just followed him to the pitch.
How old were you then?
Nelson: I think three or four years old.
Very cool, so as soon as you could walk, you were on the football pitch?
Nelson: Yeah right 😊.
And what has been the highlight of your career so far?
Nelson: My first goal in the Bundesliga, that was against Mönchengladbach in the 93rd minute!
And you remember it well, of course! Nelson, you are still very young, but you have already achieved a lot. What are your goals for this year?
Nelson: Well, for this year and then also for next season, I definitely want to become a regular player at Mainz and score more goals.
Very nice, we wish you good luck with that! Do you have any rituals before games?
Nelson: I always put my left shoe on first.
Where does that come from, superstition?
Nelson: Haha, I don't know, I've just always done it that way.
What does your everyday life look like now? Do you still go to school? Or are you already a full-time professional football player?
Nelson: Not anymore, I graduated from high school recently. When we have practice in the morning, I get up and go straight to practice, then probably eat something. It depends on how the training was: if it was exhausting and if we train again the next day directly, I stay at home and play some videogames, otherwise I maybe go out with some friends.
And how much free time do you have aside from football?
Nelson: Well, actually, if we only have training, there is enough spare time. But you always must make sure that you recover well, because most of the time there's training again the next day. So, you often can't do anything special but stay home and chill.
What do you do when you want to relax?
Nelson: I lay in bed and watch something.
What are you most proud of?
Nelson: Winning the German Championship with the U19 team!
And how do you motivate yourself when you have a bad day?
Nelson: Oh, that doesn't happen very often, but I think you just have to get through it. In such a situation I don't need to motivate myself, I know it will go away by itself.
You are still very young, and as an athlete you are under a lot of pressure to perform. How do you then manage to withstand this pressure and the expectations placed on you?
Nelson: Well, at the moment I don't feel very much pressure. I just want to go full force, play good football and try to deliver my performance on the pitch.
You've just become part of the PUMAFam – what excites you most about PUMA?
Nelson: In general, that PUMA is an up-and-coming company, the whole dynamic of the brand and that you want to support athletes like me to the maximum.
Is there anyone in particular that you associate with PUMA? What or who?
Nelson: Yes of course, all the legends! Pele, Cruyff, Maradona or especially Usain Bolt.
What is your biggest soccer dream? What would you definitely like to achieve in your career?
Nelson: Winning the big titles of course, Champions League, World Cup, Ballon d`Or!
We are looking forward to seeing you succeed and keep our fingers crossed! Welcome to the Fam & thank you very much for the interview, Nelson 🎉.