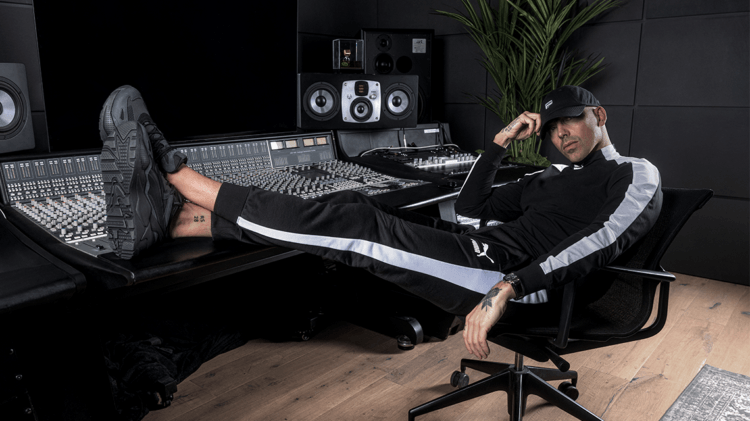 "Nie ohne mein Team!"
Austrian Rap Artist RAF Camora joins the PUMA Fam as a Brand Ambassador
April 13, 2023
Austrian Rap Artist RAF Camora joins the PUMA Fam as a Brand Ambassador
April 13, 2023
Born in Switzerland, raised in Vienna and now based in Berlin, RAF Camora is one of the most bustling German-speaking musicians of the present. After three diamond singles, seven number 1 albums and over 12 million units sold, hardly any other artist has shaped the German music landscape and German rap in the last 7 years like RAF Camora. After previous cooperation, we have now signed the Austrian artist and entrepreneur as our new brand ambassador. Welcome to the Fam!
Fans of the rapper can already look forward to new music because on June 23rd RAF Camora will release his new album "XV", which was partly produced in RAF's own ANTHRA Studio in Berlin. It's first single "All Night" broke a record already, with 2.28 million streams within the first 24 hours. But RAF Camora is more than just the artist in the spotlight. He keeps making an impact on the music industry as an entrepreneur and producer, too.
"We are very happy that RAF Camora is now officially part of PUMA. We have been cooperating closely with him and his team over the past few months now and have generated further ideas that offer room for creativity in the future. We are looking forward to anchoring him as our brand ambassador in our Central European marketing strategy in the long term,"
Already wearing his favorite PUMA sneaker, the RS-X, RAF Camora is part of the Central European campaign roll-out of the popular sneaker. Together with him and his team, PUMA is working to further expand his role as a brand ambassador in the coming months.
"I'm a big fan of synergy. For me, an artist's world is not just his music, but all facets of his lifestyle. I do sports, play shows, enjoy innovative business ideas and like it when brands match perfectly with my interests. That's why I'm happy to have PUMA as a new partner in my world,"