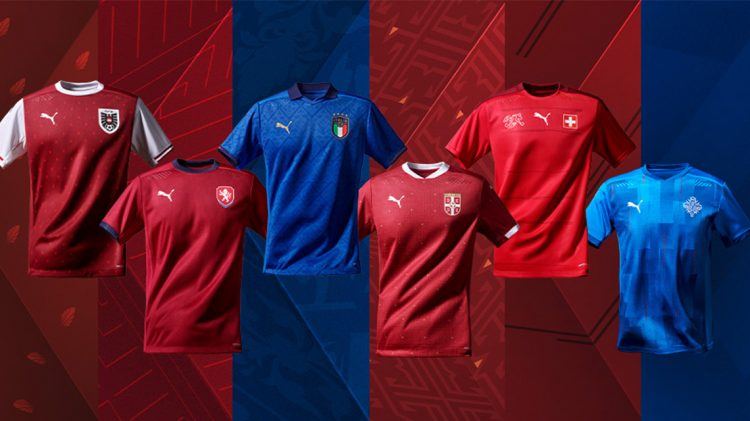 CRAFTED
FROM
CULTURE
PUMA PRESENTS THE EURO 2020 NATIONAL KITS
August 31, 2020
PUMA PRESENTS THE EURO 2020 NATIONAL KITS
August 31, 2020
Watch out football fans! Check out PUMA´s new
national team kits

for Euro 2020 worn by

Italian

,

Austrian

, 

Czech 

and

Swiss

teams. They proudly celebrate each nation's greatness, merging classic identity with a modern design.

Each kit features iconic visual elements that are unique to and inspired by the individual culture of each country, re-contextualized into bold and brilliant graphics.

And here they are …
FIGC HOME KIT
Italian football has had a lasting effect on the global game both on and off the pitch. Inspired by this culture-defining era of art and architecture, the new Italy Home Kit reinterprets the luxurious renaissance patterns of the past into a modern geometric graphic, tonally incorporated into the blue jersey celebrating the nation's influence on world culture and football alike.
AUSTRIA HOME KIT
The new Austria Home kit in classic red, with white sleeves features an all-over graphic inspired by traditional 'Österreich' Alpine outfits. The stylized pattern is inspired by the Vienna Secession art nouveau style movement of the late 19th century.
CZECH REPUBLIC HOME KIT
The new Czech Republic Home Kit celebrates the Lípa tree, the Slavic symbol for freedom. The graphic is applied as an all-over design on the jersey adding national passion to the traditional red jersey.
SWITZERLAND HOME KIT
 The new Switzerland 2020 Home kit applies the visual language and principles of the iconic Swiss Style design school, using bold simple graphics synonymous with the movement to form an abstract graphic on the jersey.