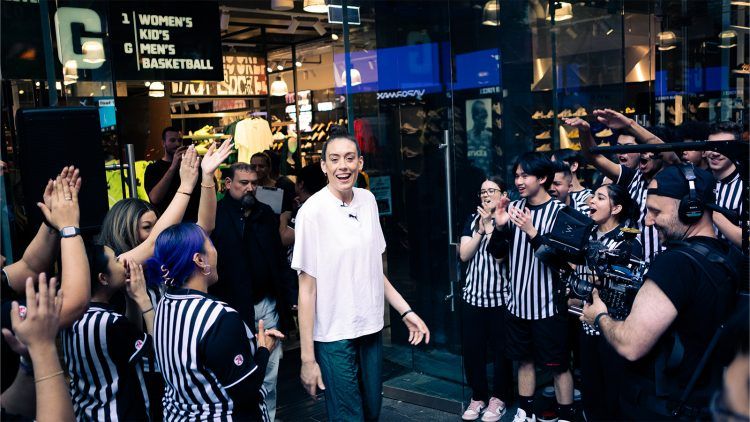 The champ
in Sydney
PUMA Oceania, Foot Locker Pacific and Breanna Stewart celebrate Stewie 1 with big outdoor event in Sydney
October 6, 2022
PUMA Oceania, Foot Locker Pacific and Breanna Stewart celebrate Stewie 1 with big outdoor event in Sydney
October 6, 2022
G'day Breanna! The freshly crowned word champion 🚀🥇👏🏾 attended an eye-catching promotion activity in Sydney the other day. With the launch of the Stewie 1, the first women's signature basketball shoe in over a decade, PUMA Oceania and Foot Locker Pacific came up with something special: An outdoor basketball promotion downtown with a surprise visit from PUMA athlete Breanna Stewart herself. Learn more.
At the 19th FIBA Women's Basketball World Cup, held in Sydney, Australia, Breanna helped lead Team USA to its 11th overall and fourth consecutive World Cup gold medal. Just before the final game, we invited her to our activation event to shoot some hoops with her.
GOING BIG
What's more inspiring than buying your idol's shoe? Exactly, seeing your idol live!
Breanna Stewart visited our event at the Sydney Foot Locker store in the Pitt Street Mall, signed autographs, took pictures with her fans and joined in a Q&A session with sports presenter Megan Hustwaite.
As a two-time Olympic champion, WNBA MVP and a newly-crowned world champion, she is literally one of the greatest in the basketball universe. By launching her own signature shoe together with PUMA in a male-dominated sports sector, she is sending an important signal in terms of growing equality in sports athletes for people of all genders.
"Equal representation in sport is something PUMA is fiercely committed to, and we look forward to seeing athletes of all ages, backgrounds and genders wearing the Stewie 1 as a reminder of how important progress like this is."
FIBA Women's Basketball Worldcup 2022
With a clear victory over China in the final (83-61), the US women's basketball team secured their 11th world title, completing its most dominant world tournament ever. Stewie, who has been competing with USA Basketball since she was 14 in 2009, now joins fellow Husky greats Tina Charles, Diana Taurasi and Sue Bird as the only former players with three or more FIBA World Cup gold medals. 🥇🥇🥇
AMAZING NEWS! The World Championship in Australia also showed that interest in women's basketball is growing. 16,000 fans watched the finals live, and the attendance was consistently so high that the tournament is considered the best-attended women's basketball tournament ever.
FOR THE NEXT GENERATION
Unforgettable holidays for school children in Sydney: The big basketball event with Stewie 1 Quick-Shot Challenge took place during the vacations from September 24 to 27. Many young basketball fans were able to take part and prove their skills in the "Stewie 1 Quick-Shot Challenge". Taking part was worthwhile – prizes ranged from winning the Stewie 1 and a year's supply of PUMA Hoops products to PUMA x Foot Locker vouchers and exclusive posters.