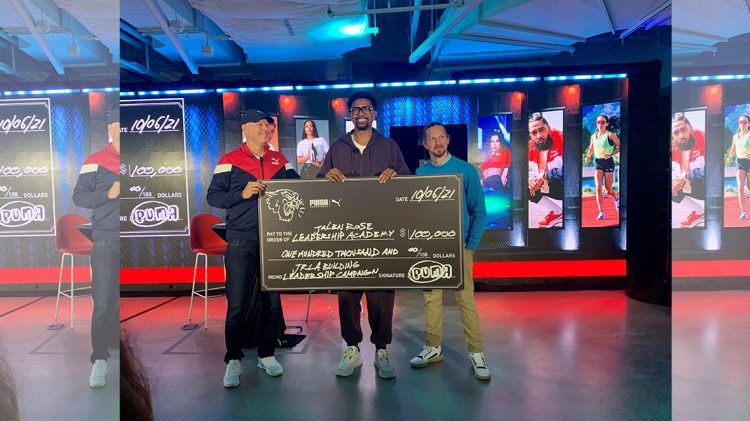 Building
Leaders
PUMA makes $100,000 donation to the Jalen Rose Leadership Academy
October 7, 2021
PUMA makes $100,000 donation to the Jalen Rose Leadership Academy
October 7, 2021
Your zip code should not dictate the quality of your education! That's the mantra of the Jalen Rose Leadership Academy, set up by basketball great and PUMA ambassador Jalen Rose. When Jalen visited the new PUMA hub at Assembly Row this week, we supported this great cause by making a donation of $100,000.
Established in 2011 by Jalen Rose and Co-Founder Michael Carter, JRLA is a tuition-free, public charter high school, located in the neighborhood where Jalen grew up, Northwest of Detroit. JRLA serves 420 students and supports over 500 alumni with its college success program. The mission of JRLA is to empower all students to get a college education and give them the strength and the skills to get a great start in life.
The money donated by PUMA will go towards making JRLA an even bigger success and improve the school's facilities, as part of the JRLA Building Leaders Campaign. This will include setting up a proper gymasium and classrooms dedicated to teaching Science, Technology Engineering, and Mathematics.
Jalen is a great ambassador for PUMA and PUMA Hoops and his work with JRLA is truly inspiring. 'Giving back' is a passion for him and he is so committed to Detroit, especially through education. While we are already invested in the leadership academy, we wanted to help their current fundraising efforts as they continue to try and improve the facilities and experience for these high school student
The success of JRLA is clear: 97% of the students enrolled graduate from highschool and JRLA is ranked #1 among open enrollment highschools in Detroit for the rate of college matriculations. When students graduate from highschool, they have access to a support network to ensure they also graduate from college after leaving school.