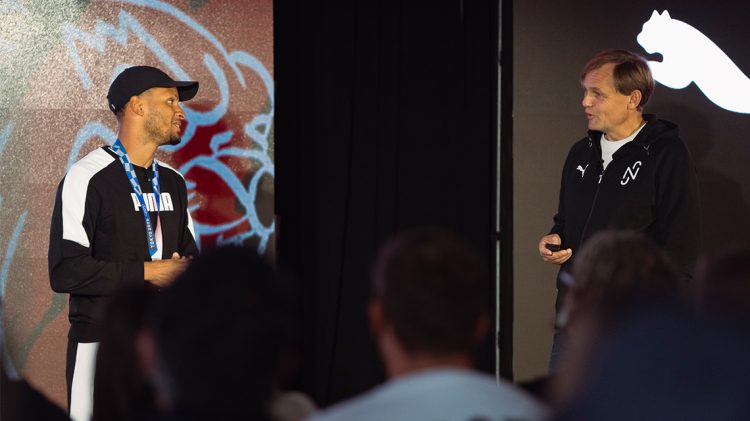 Welcome to
Assembly Row!
PUMA's new North American hub hosts first ever sales strategic alignment meeting
October 5, 2021
PUMA's new North American hub hosts first ever sales strategic alignment meeting
October 5, 2021
PUMA's new North American hub at Assembly Row on Tuesday hosted its first ever sales strategic alignment meeting, which brought together PUMA's North American teams for the first time in 19-months. The meeting will focus on the brand's strategic priorities for the AW22 season and the opening event featured special appearances by PUMA ambassadors Breanna "Stewie" Stewart and Olympic champion Andre de Grasse.
The new hub in Somerville, Massachusetts, just outside of Boston, combines two office locations into one and offers 150,000 square feet of flexible office space. It is located at "Assembly Row" because it was built on the former site of a car plant. To cheers from the crowd, PUMA North America President Bob Philion opened the meeting.
"We are stronger together, which has never meant more than it has the past 18 months. And we are even stronger together here in Assembly with the unification of the NA Regional team and the Global product & marketing engine. This is a game-changing day for the PUMA brand and business in North America," Bob said in his opening remarks.
PUMA CEO Bjørn Gulden then took to the stage to speak about PUMA's business and how the company fared over the past one and half years. He also pointed out the importance of the North American market to the PUMA brand and talked about the steps PUMA had taken to improve its business there, including the re-entry into basketball.
John Miller, Senior Vice President of Wholesale, introduced the new team members and talked about his philosophy for the meeting. "We're not going to talk about what we are going to accomplish, we are going to talk about HOW we are going to do it," he said.
To show a great example of how PUMA is staying relevant as a sports brand in North America, Allison Giorgio, Vice President of Marketing, welcomed Breanna "Stewie" Stewart on stage. The WNBA star talked about her sport and her partnership with PUMA, as well as her goals for the future.
"I'm a rookie, a newbie, when it comes to being a member of the PUMA Fam," Breanna said. "But you guys have welcomed me with open arms and it's been amazing."
Allison said she was excited to deliver strong marketing stories for the AW22 season to equip the wholesale team with the right messages to convince their partners.
"PUMA is winning, and the energy that is felt in the marketplace and in the building this week is real! The AW22 season has strong products, innovative technologies, great athletes and desirable partners. We have the ingredients to succeed, we're looking forward to getting out there and continuing to win," she said.
It was a special day for PUMA North America to make a fresh start following the COVID-19 pandemic and to do so in the all-new office space at Assembly Row.
At CATch Up, we wish all of our colleagues at PNA an inspiring meeting at their new place!