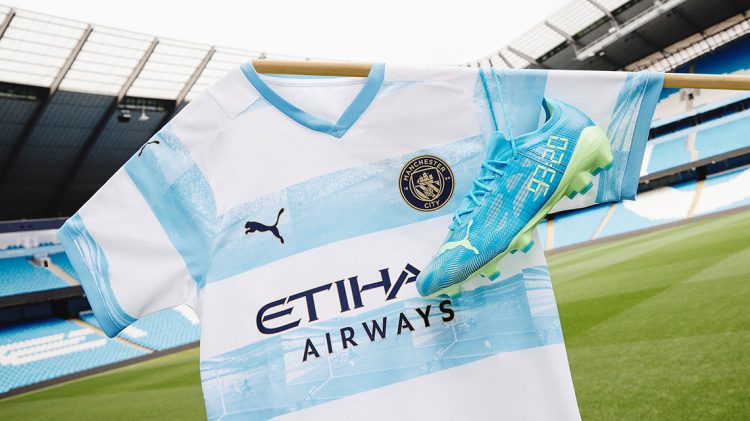 93:20
93:20 MANCHESTER CITY PRE-MATCH JERSEY AND ULTRA FOOTBALL BOOTS TO CELEBRATE THE 10 YEAR ANNIVERSARY OF THE FAMOUS SERGIO AGÜERO GOAL
May 9, 2022
93:20 MANCHESTER CITY PRE-MATCH JERSEY AND ULTRA FOOTBALL BOOTS TO CELEBRATE THE 10 YEAR ANNIVERSARY OF THE FAMOUS SERGIO AGÜERO GOAL
May 9, 2022
Together with Manchester City, we have unveiled a limited-edition 93:20 pre-match jersey and special-edition 93:20 ULTRA football boots to celebrate the
10-year anniversary of the legendary Sergio Agüero goal

that will forever be a part of Manchester City's history.

The pre-match jersey was unveiled last Sunday ahead of Manchester City's league home game against Newcastle United. It features a white base with light blue hoops and navy and gold detailing. The iconic 93:20 goal is immortalized inside the hoops using historical footage of Sergio Agüero's late winner that captured the league title. Each image tells the story of the famous goal, embedded into the fabric of the jersey. Only 2012 limited-edition jerseys will be released to signify the year the goal was scored, with each jersey featuring a unique number located on the waistband and 93:20 sign-off on the neck.
We also paid tribute to the iconic goal with special-edition ULTRA football boots designed with the same color palette of the original PUMA v1.11 football boots that Sergio Agüero was wearing when he scored that famous goal. Only 120 pairs of the limited-edition Nrgy Blue and Green Glare boots have been created in homage to the goal.
The upper of the 93:20 boot integrates the "Manchester City are still alive here" commentary, with custom 93:20 graphics on the outside of the boot. The footbed also features the famous "Agüeroooooooo!" line from the goal that will live on forever.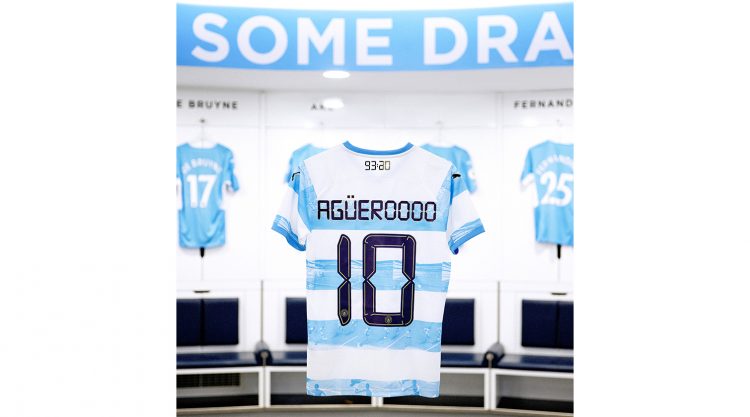 "This is a great honor for me. I shared many incredible years at Manchester City, but the 93:20 goal was special. The atmosphere in the stadium, the comeback, the title, I have never experienced anything like it. I hope I made the Cityzens proud. I have been a PUMA ambassador for over 10 years so for them to create this special jersey and boot is a beautiful gesture that brings back so many emotions from that special day."
– Sergio Agüero
Collect your own piece of history with the 93:20 Manchester City pre-match jersey & ULTRA available from May 13th at PUMA stores, PUMA .com, the City store at the Etihad Stadium, mancity.com/shop and at select retailers worldwide.