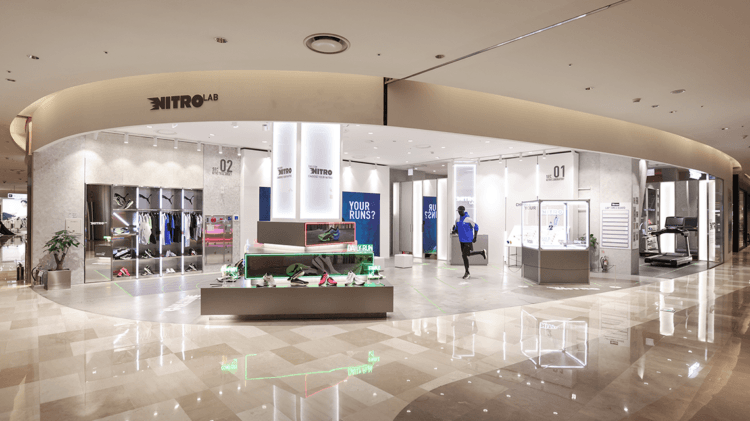 Pushing Your Limits
PUMA Korea Launches New NITRO Campaign alongside Lotte SKYRUN Event
May 4, 2023
PUMA Korea Launches New NITRO Campaign alongside Lotte SKYRUN Event
May 4, 2023
Last month, PUMA Korea organised various marketing activations to put our
NITRO technology

front and centre. From a pop-up NITRO store in the Lotte World Mall, to a challenging 123 floor vertical marathon, PUMA Korea welcomed consumers into the world of NITRO.

From April 4th to May 21st, a NITRO pop-up store can be found directly at the Lotte World Mall 3F. In the lab, consumers can get to know and wear our NITRO technology. The best part – every weekend, visitors can get a foot scan from a running expert and get a recommendations on running shoes that suit you!

In addition to this, a NITRO television commercial was aired on tvN and SPOTV Channels. The commercial can be watched live or here!
2023 Lotte SKYRUN
PUMA Korea teamed up with Lotte SKYRUN – the only international vertical marathon in Korea – which boasts the tallest and largest number of stairs in the world! With 123 floors and 2,917 stairs, more than 4,000 people in PUMA t-shirts put their fitness to the test in this exciting event.
"Climbing the 123 floors of Lotte World Tower, the highest building in Korea, may be a big challenge. However, through this process, we can overcome our limits, challenge once more, and gain an irreplaceable sense of achievement. I believe we can do it, and these are the sports spirit and values that PUMA wants to share with you."
– Nayoung Lee, General Manager of PUMA Korea