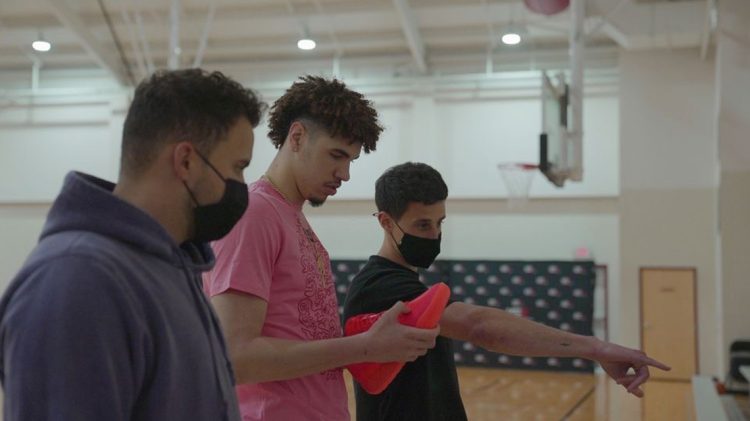 People at PUMA
Behind
LaMelo´s
MB.01
The creation and design process of LaMelo Ball´s signature shoe MB.01
February 18, 2022
The creation and design process of LaMelo Ball´s signature shoe MB.01
February 18, 2022
Rookie of the year, All-Star player, PUMA Athlete! LaMelo Ball

is one of the most exciting players in the NBA and the

next generation of basketball

. With his

electrifying style of play

on the court and his

personal style off the court

, he is a big win for our brand. We have signed the young talent in October last year and unveiled LaMelo´s first PUMA signature basketball shoe, the

MB.01

, this year. This

has been PUMA Hoops' first signature shoe release since re-launching our basketball category

in 2018.

Learn more about the creation and design process

of the MB.01 and read the interview with

Jeff

Gately

(Product Line Manager

,

Basketball

Footwear

) &  Ja

cob Garcia (Senior Designer, Basketball Footwear)

.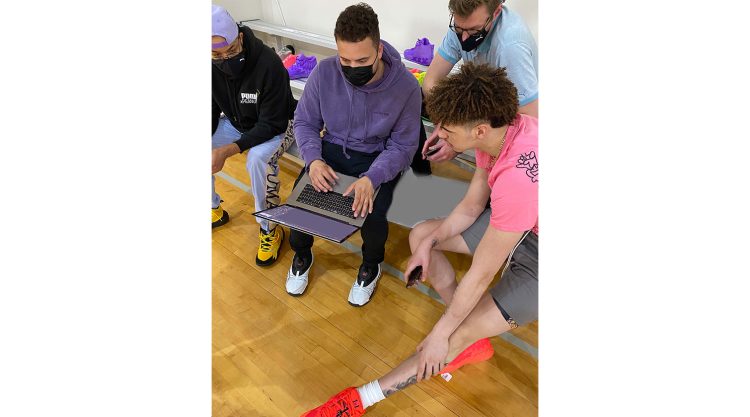 Can you talk us through the design process?
Jacob: We started designing right away, shortly after we signed LaMelo. In the first week after, we had a Facetime call with him to get his general thoughts and ideas down. One month later, we had a room full of ideas.
Jeff: In terms of a product timeline, it was full go ahead from the second we signed him. After the first phone call with him, we invited LaMelo into the office to show him a ton of designs. We put them all up on the wall and he was walking through all of them. It was almost like a footwear bootcamp, because we needed to build his signature shoe within a short period of time. Usually, this process would take 18 months or longer. We laid out a timeline for him, presented the design directions and told him we need to pick one. Melo understands the whole design process and it was pretty easy to work with him. He really is confident in what he wants to do.
Jacob: In the end we had three designs and we took it way past sketching. We almost did a six month design process in one month. We developed a lot more product than we needed to, but it worked out. He actually loved two of them.
What makes the MB.01 so special?
Jeff: We built his shoe fully custom to him and developed an entire new fit for the MB.01. The MB.01 is one of the first products that we put Nitro Foam on to the court, this combined with Melo's new performance fit and collar height makes it a one-of-a-kind shoe or "1of1" as Melo says.
Jacob: Since it`s a signature shoe, it has a lot more storytelling to it. There is a lot more thought process behind every aspect of the shoe. The storytelling is super pumped up on the shoe.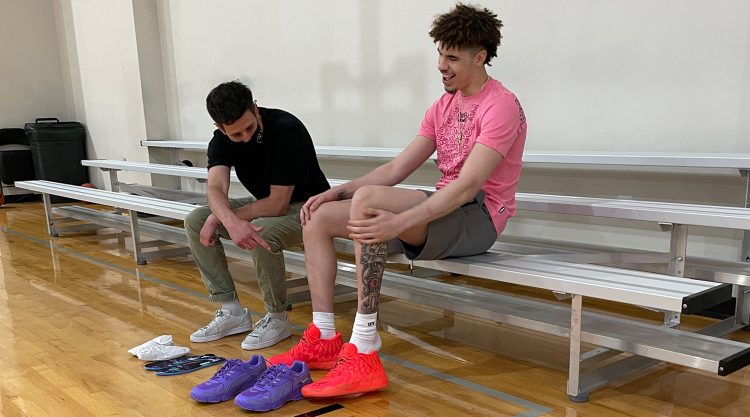 Talking about the storytelling aspect: How did you come up with "Not from here"? What is the background of this slogan?
Jacob: The wording is all from him. I asked myself how do I actually get to know him. Because of that, I was looking at his tattoos. They are something very personal to him. He has a lot of space tattoos and a visual of a rocket on his leg. That's going to be shot with the shoes, so we wanted to make sure to make this intentionally and not clashing. So, we put the "Not from here" and made sure the shoe lines flew off the lines of his spaceship leg tattoo.
Jeff: I think when Melo came to us with all these phrases, we didn`t have to do much else in terms of coming up with a story. We definitely wanted to have "Not from here" on it and he always says "1 of 1" and "rare". So, all of those three phrases show up on the shoe. Jacob had to figure out a way to tastefully place the phrases on the shoe. Melo gave us everything we needed for the storytelling, which definitely helped us to speed things along.
Jacob: Even the Rick and Morty-collaboration came from him.
Jeff:  When he said "I want to do a Rick and Morty shoe", we were like: "Perfect, that´s the one".
How did you like working with LaMelo?
Jacob: We kept it pretty informal and have a good relationship. He is very pleasant to work with. Melo knows what he wants, which is good about him. He is also very direct.
Jeff: Working with him has definitely been interesting in a good way. He is constantly challenging us on what we can`t and can do.
Jacob: Jeff is the one to say stop, because as a designer I was like "Awesome, I love it. Let´s do it!"
Jeff: I have to be the bad guy, because sometimes we have to narrow down the ideas since he can only physically wear so many shoes in a season. He brings a lot of really good ideas.
Jacob: It`s also funny, right before he got selected to the All-Star team, which is a giant deal for his age, we were joking about him getting more PEs for next season. PEs are shoes only he gets, which is a very custom process. We made the deal, if he makes it to the Allstar-Team, he can get more. At that point it was up in the air, then he made it and I instantly was expecting a text from him with more concepts.
Jeff: He texted me right away.
Which colorway is he going to wear at the All-Star game?
Jacob: This Allstar-game it`s probably going to be Rick and Morty.
Jeff: Yup, Rick and Morty it is, although Melo does like to switch things up on us. So, who knows? You could see a new colorway that's never been seen before.
How does it make you feel to see the kicks on the court at NBA games?
Jacob: Sometimes I sort of forget that. I haven't seen it in person at an NBA game, but I have seen it on other people wearing it. I think I don`t fully grasp it, but in a couple of years maybe I will.
Jeff: It's one of the coolest and most rewarding things seeing your shoes on an NBA court after 18 months working on it. It`s like all the late nights with the factory on the phone and all the early mornings finally pay off. Seeing something you built in real life is still so crazy to me. We put the first PUMA signature basketball shoe out in 25 years, it's awesome to think about.
Jacob: I`ve been doing this for 10 years. With every shoe, some people like them and some people don`t. The MB.01 is definitely my best received shoe.
Thank you both for the chat!